Back again to support more good causes, the Artists for Hope initiative returns with new creations and new beneficiaries this week. Inspired by Richmond artist Ed Trask who sparked the movement, some of Richmond's most talented artists are now banding together every Friday to auction off their work for a nonprofit or cause of choice.
Richmond Grid is partnering with Artists for Hope and is providing an ongoing list HERE that includes participating artists, the cause they are supporting, and where to follow them to bid on their creations. You can also read weekly updates on a special section of Grid's site HERE.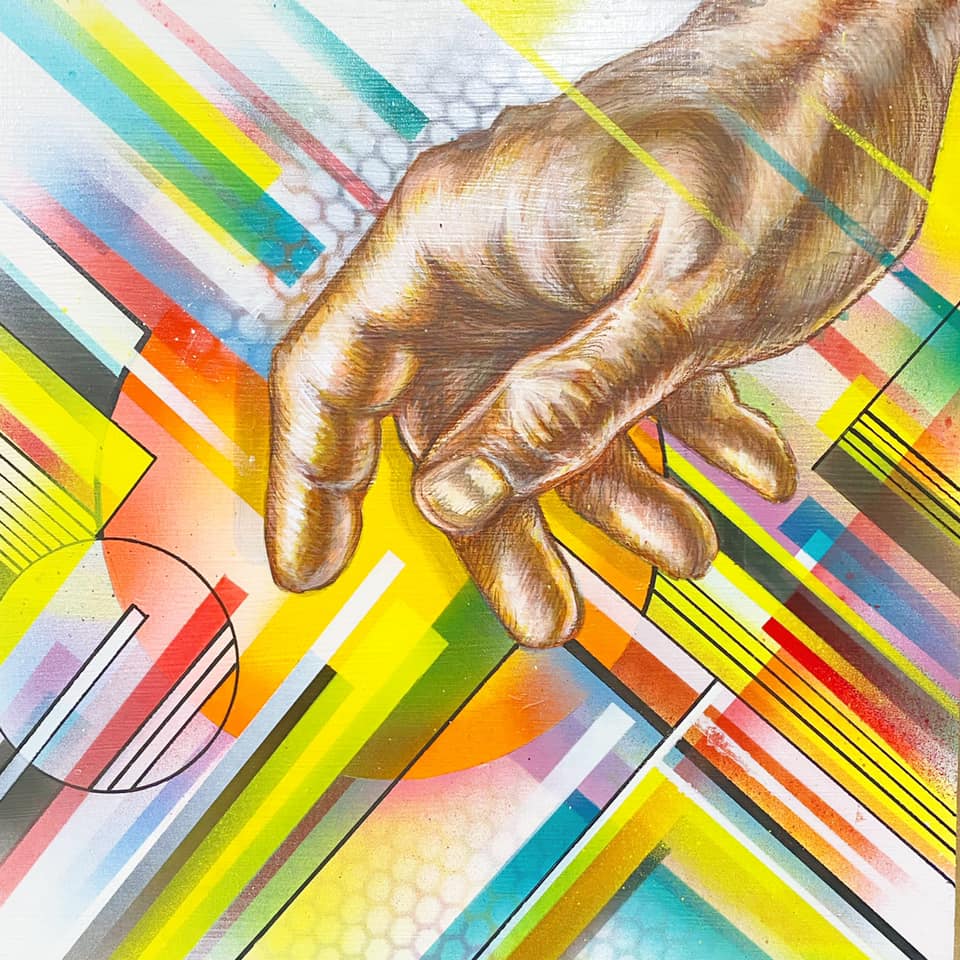 This week, Hamilton Glass is offering a 14" x 14" painting, titled "Reach for the Sun #5," as part of his hand study series. To bid on his painting, just leave a comment either on Facebook or Instagram with your dollar amount. If you prefer to bid privately, you can also message Glass and he will place the bid for you. The auction ends at 8 PM on Friday, April 24. Richmonders can bid on Ham's Facebook page HERE and Instagram HERE.
"This week 100 percent of my proceeds will be donated to 6PIC – Six Points Innovation Center located in Highland Park," says Glass. "6PIC provides youth with skills for dynamic civic engagement and creative expression in a supportive community space. In these unusual times they are still actively supporting families who need the extra hand."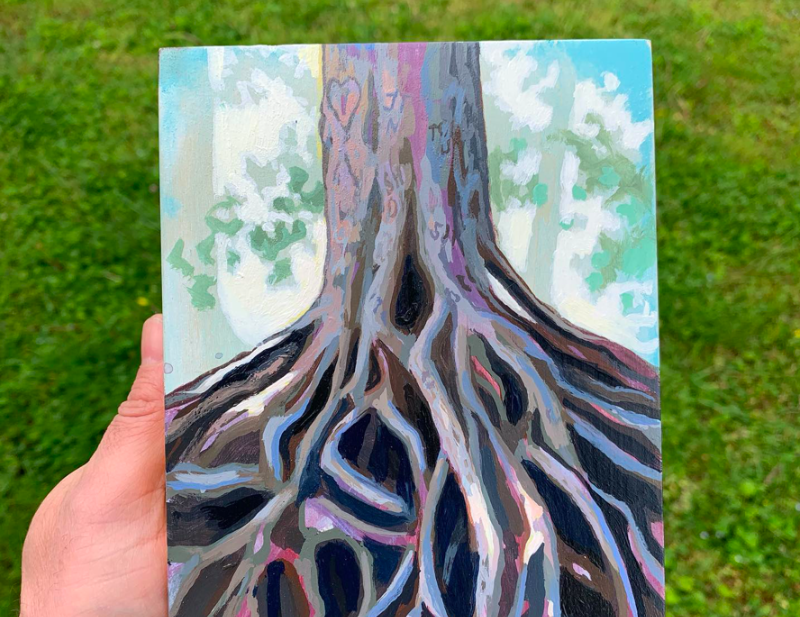 Steve Hedberg returns this week with an easily recognizable piece for anyone who spends time in the James River Park System. "Maybe you've seen this tree trunk on the South Bank near Reedy Creek," says Hedberg. "It's loaded with carved initials. It's called Riverbank Etchings, it's 5" x 7" and ready to hang." Hedberg will donate all proceeds to Cultureworks' COVID-19 Arts and Culture Relief Fund, supporting artists who need a helping hand during the current health emergency.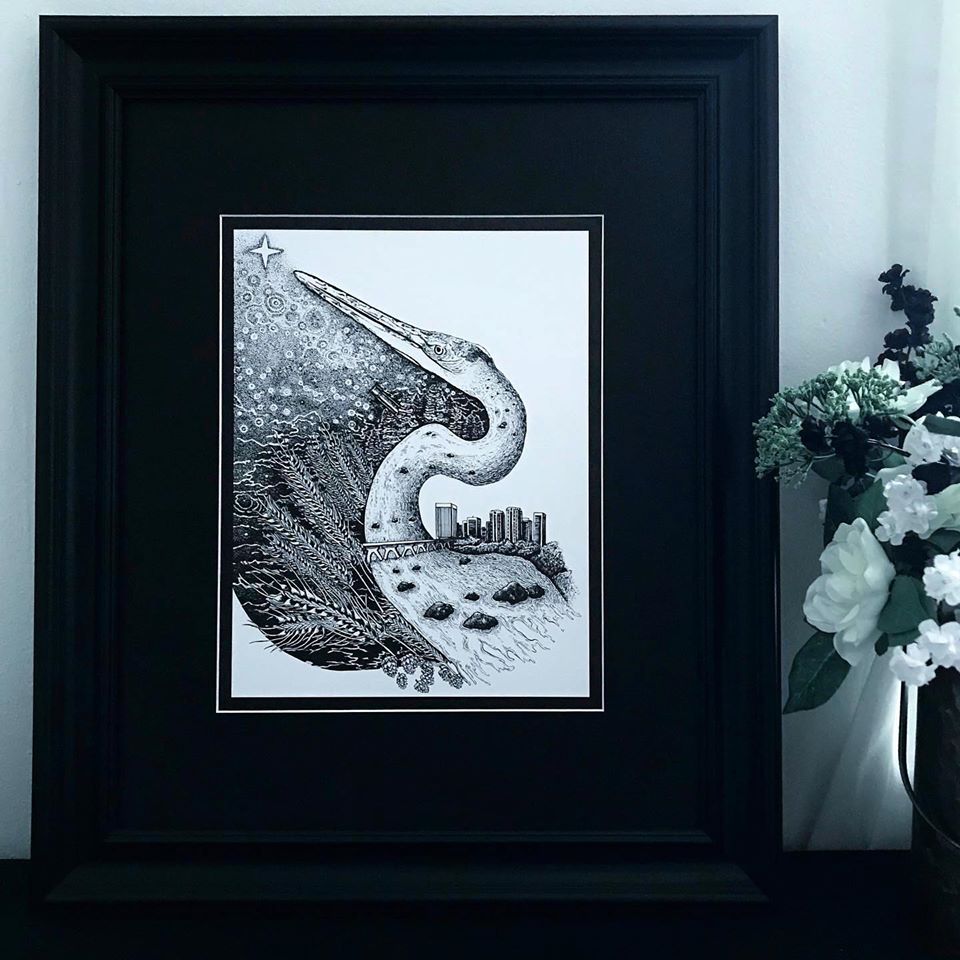 Amelia Blair Langford is joining Artists for Hope this week with a framed, matted and signed LAST print (11" x 14" print / 20″ x 24") of "The Richmond Explorers: The Heron." Langford is accepting bids in the comments section of her FACEBOOK HERE. Her auction ends at 9 PM tonight.
"A portion of my proceeds will be donated to Studio Two Three, a wonderful non-profit arts organization that empowers artists to make art and make change," says Langford. "During COVID-19, Studio Two Three continues to be a positive, wheelhouse of artistic inspiration, such as sewing cloth masks for our community and providing online, artist resources."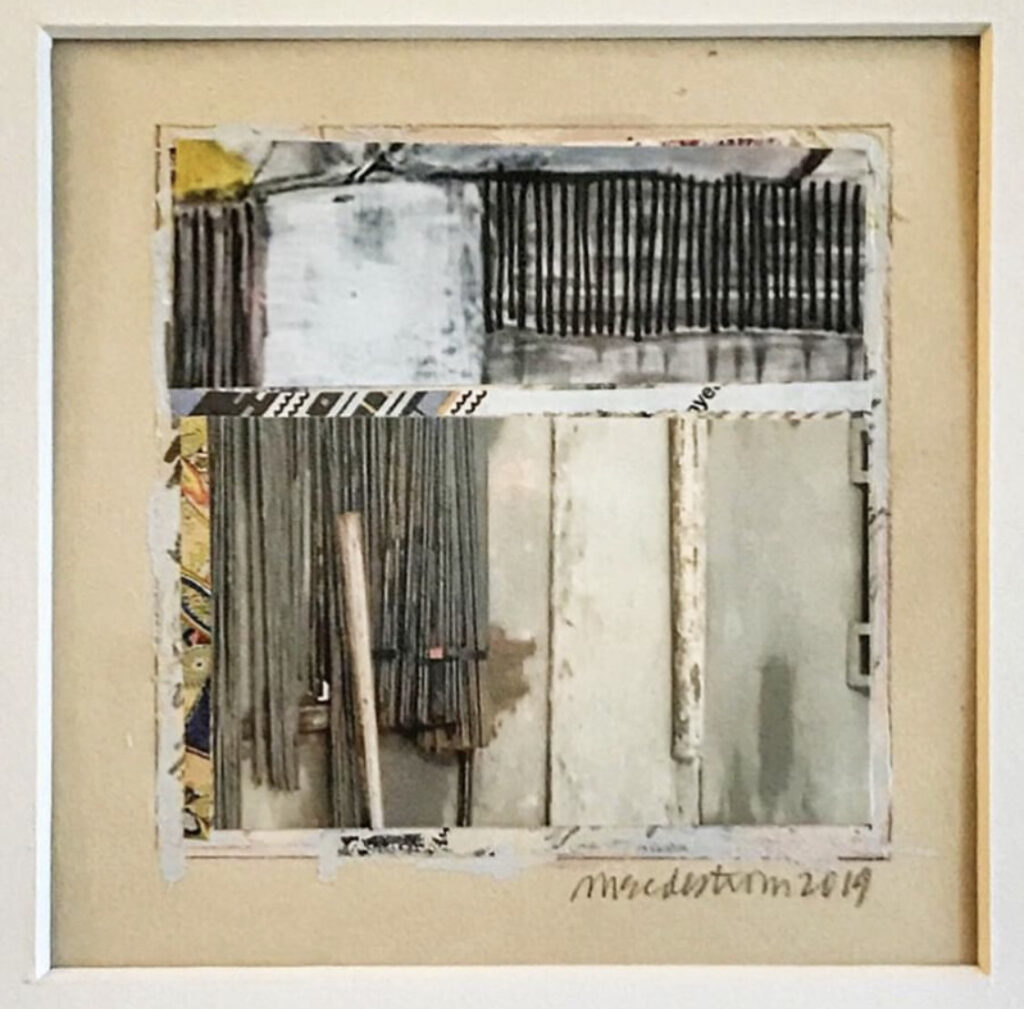 Also joining Artists for Hope this week, Marty Sedestrom Guthrie is auctioning a mixed media collage, titled "Rebar." The piece is 3.5" x 3.5" and matted in a 9″ x 9″ wood frame, with both a wall hanger and easel back. Guthrie is accepting bids on her Instagram HERE. "100% of the winning bid will be donated to The Holli Fund which provides emergency grants to Richmond-area food service industry workers in crisis," says Guthrie.
Bidding ends at 9 PMt tonight.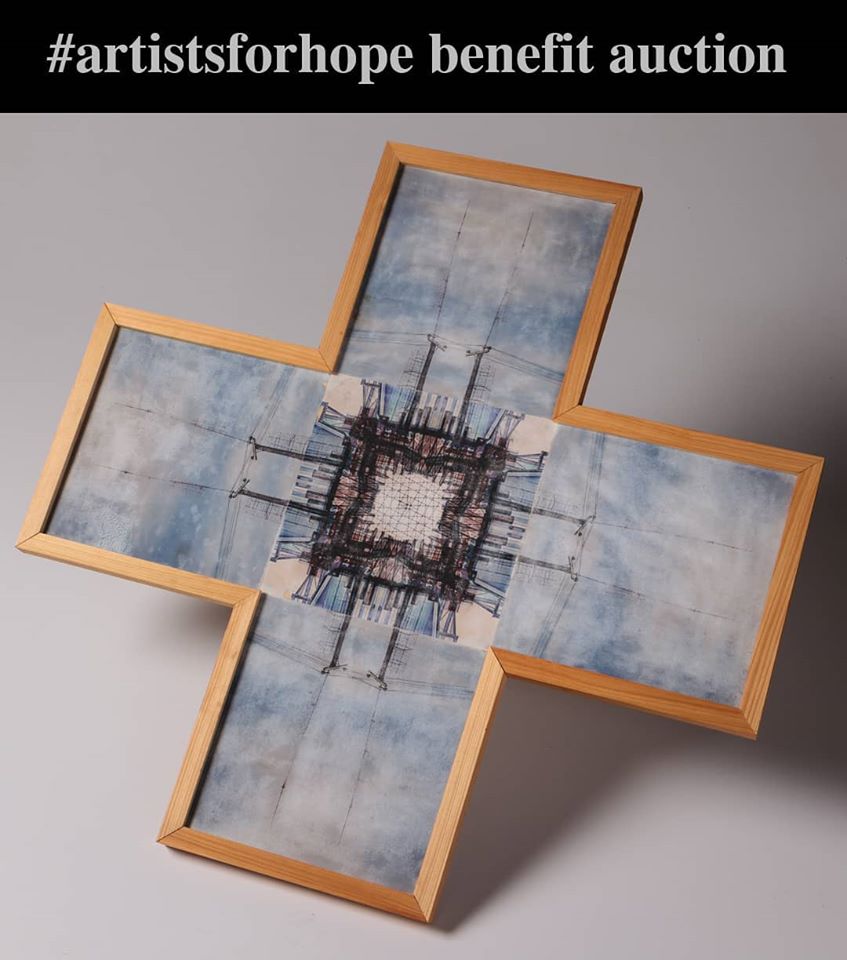 Jeff Saxman is back this week with a Scott's Addition cityscape that has been transformed digitally into a kaleidoscope and transferred to wood panel. The width of the piece is about 25″ across, and it can be displayed either "+" or "X", according to the winning bidder's preference. "This week, 100% of the bid will go to Feed More because they do an awesome job of keeping folks fed in RVA," says Saxman who is accepting bids until 10 PM tonight on INSTAGRAM HERE and FACEBOOK HERE.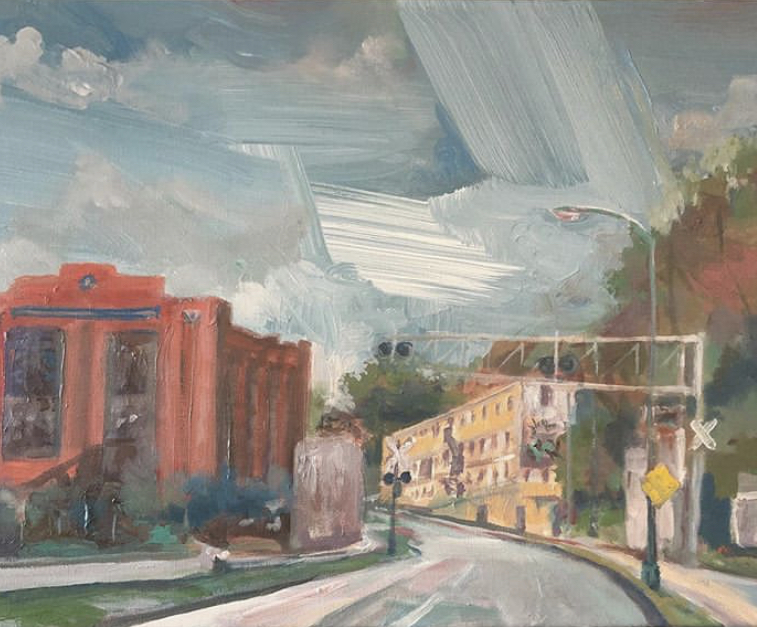 This week, Matt Lively and Ed Trask have added a special twist to Artists for Hope by incorporating three pieces each in the Lively Trask Exhibition opening today at Glavé Kocen Gallery's virtual exhibit. In addition to new works for the exhibition, Lively and Trask have added their Artists for Hope donations to their virtual opening found HERE. Opening bids begin tonight and will close on May 1. Bids are at $100.00 increments and can be placed by emailing [email protected]. Bids will not be accepted on social media for Lively and Trask this week.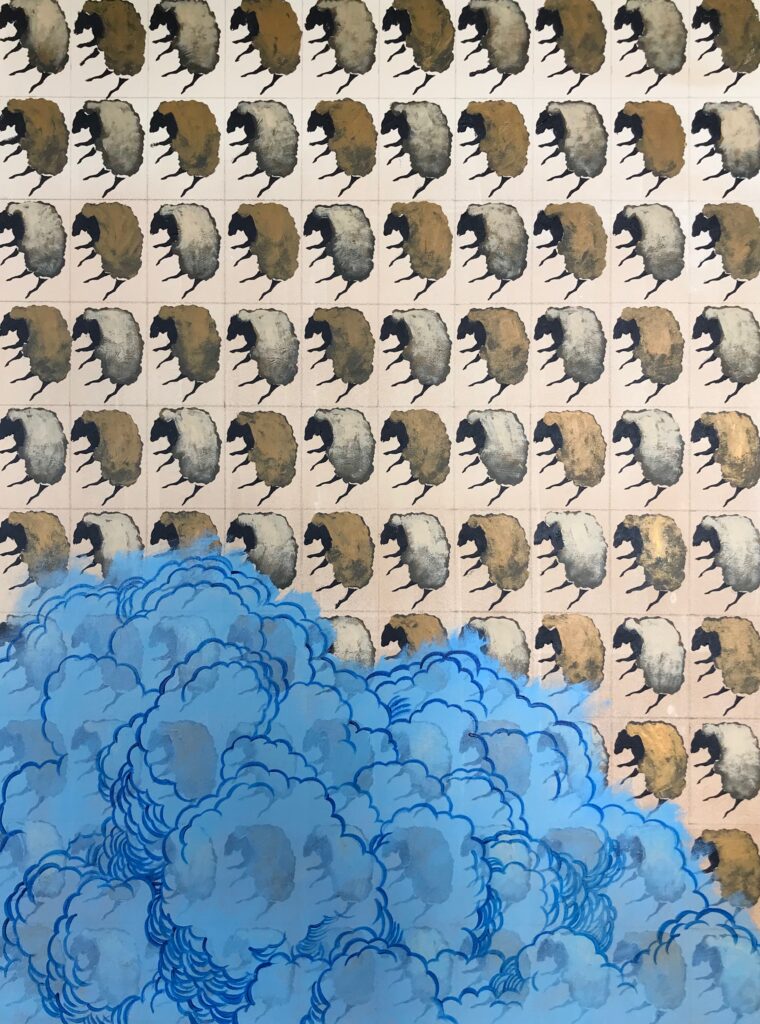 Lively is donating proceeds from his three pieces for Artists for Hope to Mercy Mall, Bridging RVA, and CIS of Chesterfield. While Trask is donating proceeds from his Artists for Hope paintings to Helen's Staff Relief Fund. View all of the pieces by Lively and Trask HERE.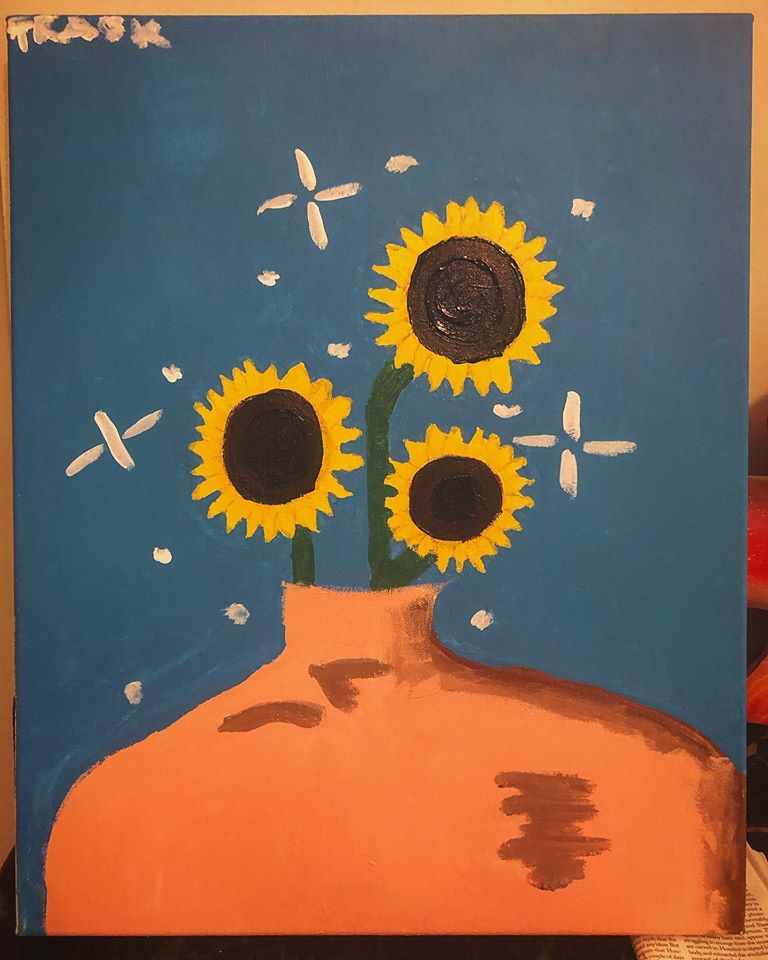 Getting into the action like his dad, Loudon Trask, 11, has created a painting this week to auction off for Helen's Relief Fund in honor of the legendary Charlie Illario, his favorite barber at Main Street Barber. Loudon's auction ends at 10 PM tonight.
Follow #artistsforhope on Facebook and Instagram for more participating artists and check back here regularly for updates. Happy bidding!