Hope. It's the key to our ability to persevere, to push forward, and to rise in the face of struggle. It's the key to our existence. And here in Richmond, we have a lot of it thanks to an initiative called "Artists for Hope" led by a cadre of local artists, makers, and creatives.
As we reported last week, Artists for Hope was inspired by Richmond artist Ed Trask. In the midst of the current health emergency, Trask did what he does best—he picked up a brush to show his love for the community he has spent decades painting. His initial piece was quickly auctioned off on Trask's Instagram to support Richmond Restaurants United. This simple act sparked a movement of hope and within the week other artists joined in.
Today, a growing list of Richmonders are standing with Trask by posting their work every Friday with proceeds supporting a variety of local causes. Hamilton Glass, Nico Cathcart, Matt Lively, Steve Hedberg, Mickael Broth, Ross Trimmer, Renee Wood Stramel, Tanya Rogish, Agnes Grochulska, Jeanne Minnix, and more are hosting auctions on their Instagram and Facebook pages with the highest bidder receiving an original creation each week that supports a good cause selected by the artist.
Richmond Grid is partnering with Artists for Hope and is providing an ongoing list HERE that includes participating artists, the cause they are supporting, and where to follow them to bid on their creations. You can also read weekly updates on a special section of Grid's site HERE.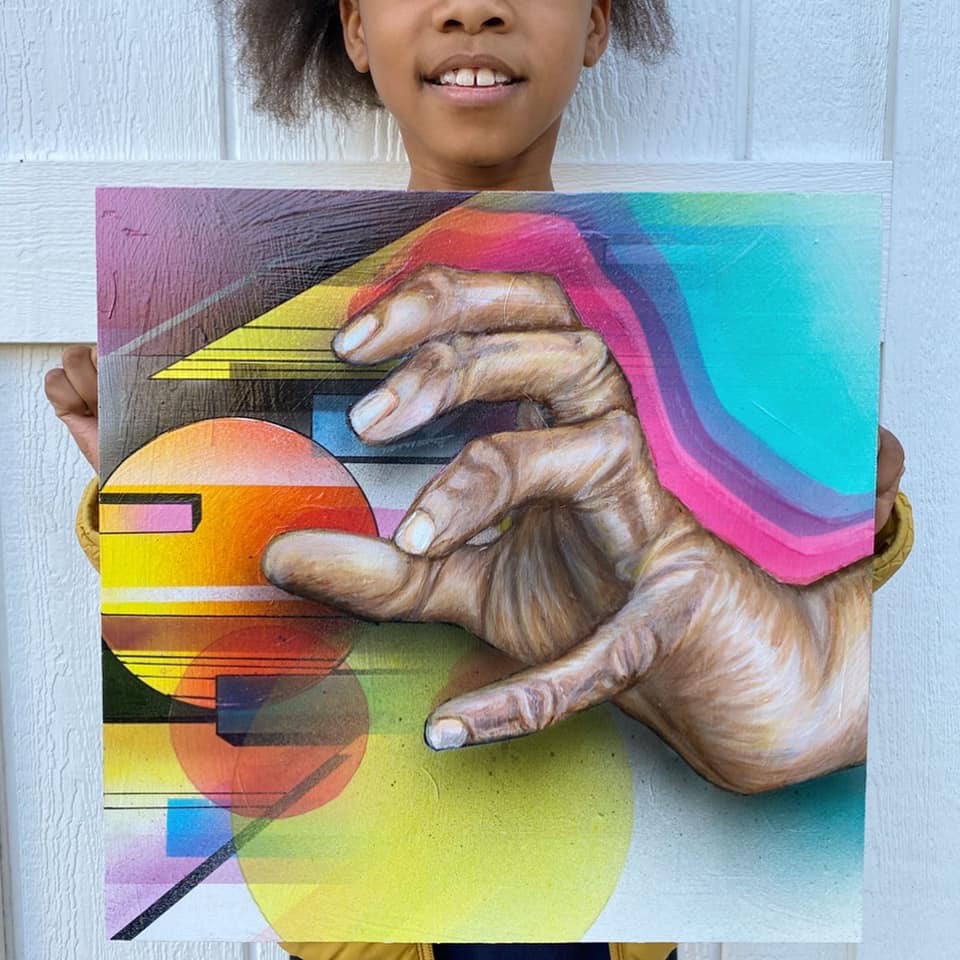 This week, Hamilton Glass is offering a 12 x 12 painting titled "Reach for the Sun #2" available for bidding on his Facebook page HERE and Instagram HERE. "In these times, we all need a hand and for good bit of my career I've been obsessed with hands studies," explains Glass. "Hands are often how we give to the world and for some unknown reason that just speaks volumes to me."
To bid on this week's painting, Glass asks Richmonders to simply leave a comment either on his Facebook or Instagram with their bid amount. If you prefer to bid privately, Glass is also accepting private message and he will place the bid in the comment section for you. His auction ends at 10 pm on Friday, April 3. Glass will donate 100% of the proceeds to The Giving Wall Richmond. "The Giving Wall is a Richmond website that was built to house urgent needs of people experiencing financial crisis. I'm hoping this will be able to benefit more than one person on this great platform. Let's help some people in need."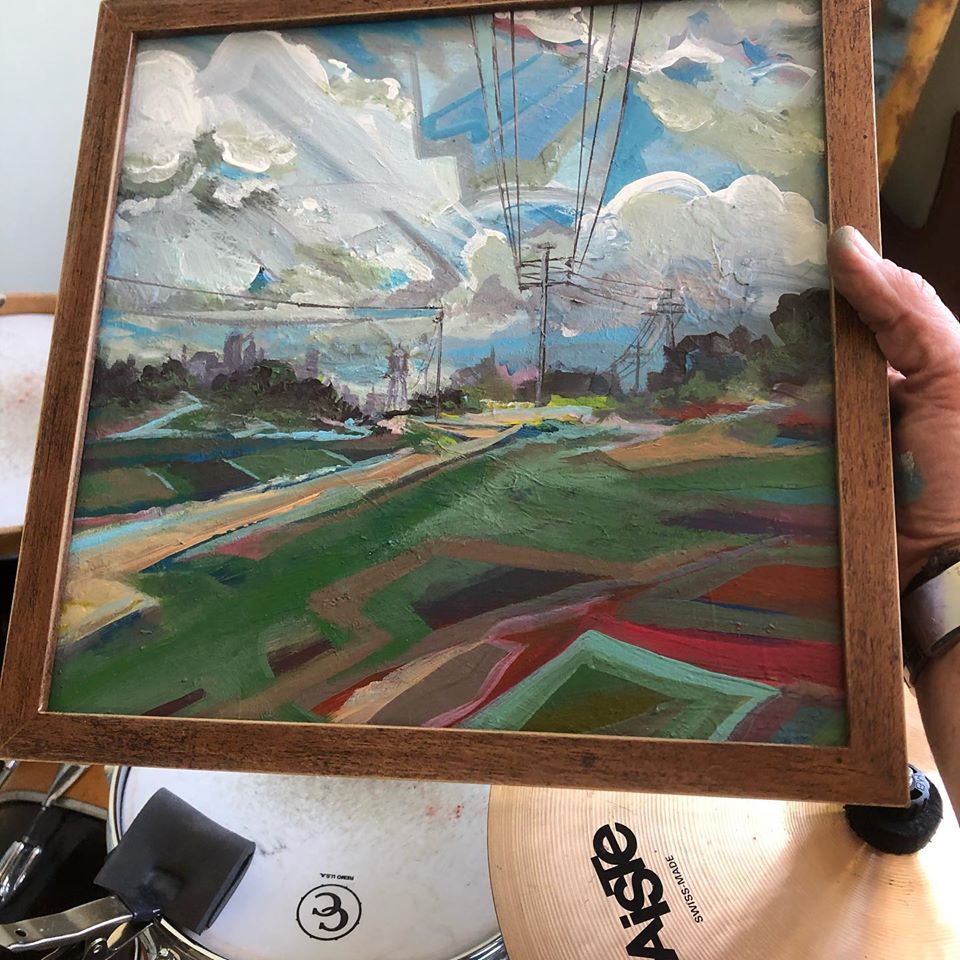 Dropping another showstopper this week, Trask has created a painting for bidding on his Instagram HERE. The painting is 12″ x 12″ canvas acrylic with 100% of the proceeds benefiting Richmond Restaurant United's efforts to address the immense challenges facing the restaurant industry. "We walked in from the east, suddenly we could just make out the steeples of the Southern States silos," says Trask about the painting. Bidding for this piece closes at 11 pm Friday, April 3.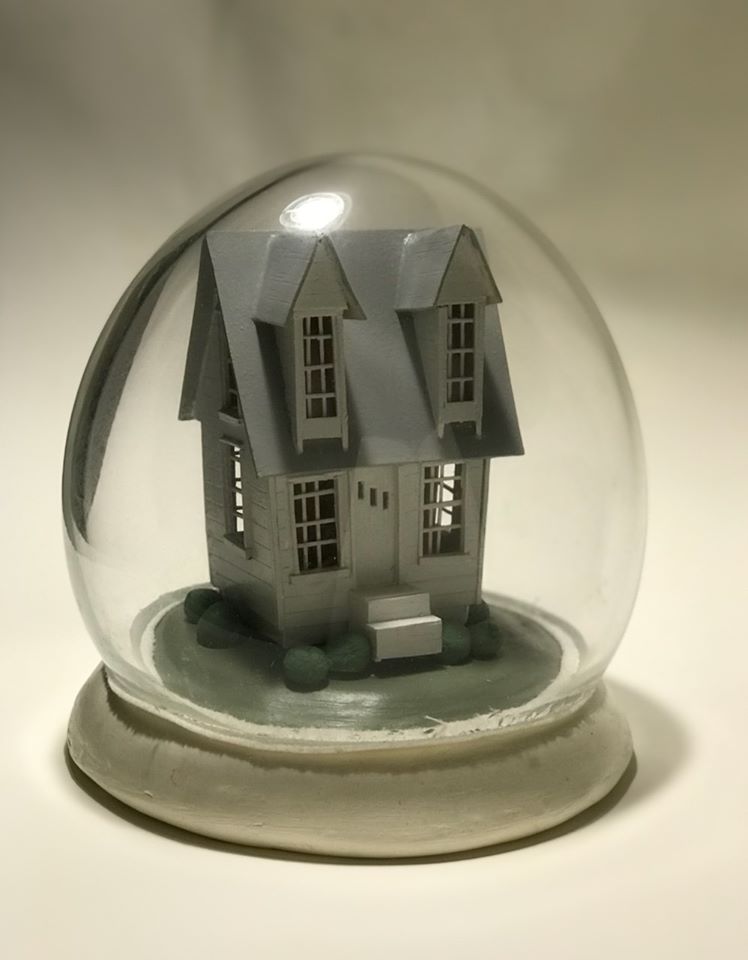 Over on Matt Lively's Instagram, Richmonders can bid on a sculpture that is 7 inches tall made of blown glass, basswood, plaster, and enamel paint. The unique piece was made as part of a film set for "The Windchill Factory," an ongoing production, with 100% of the proceeds supporting the Communities In Schools of Chesterfield. The highest bid on Friday, April 3 HERE will win this timely little sculpture that Lively will deliver to you (if you live in the Richmond area). If you don't like bidding publicly, Lively will accept private messages to place the bid. Last week, Lively's "Beecycle" paintings package earned over $1,000 for Communities In Schools to help them do what they do best. "COVID-19 has really stuck it to people," says Lively. "Let's do even better this week!"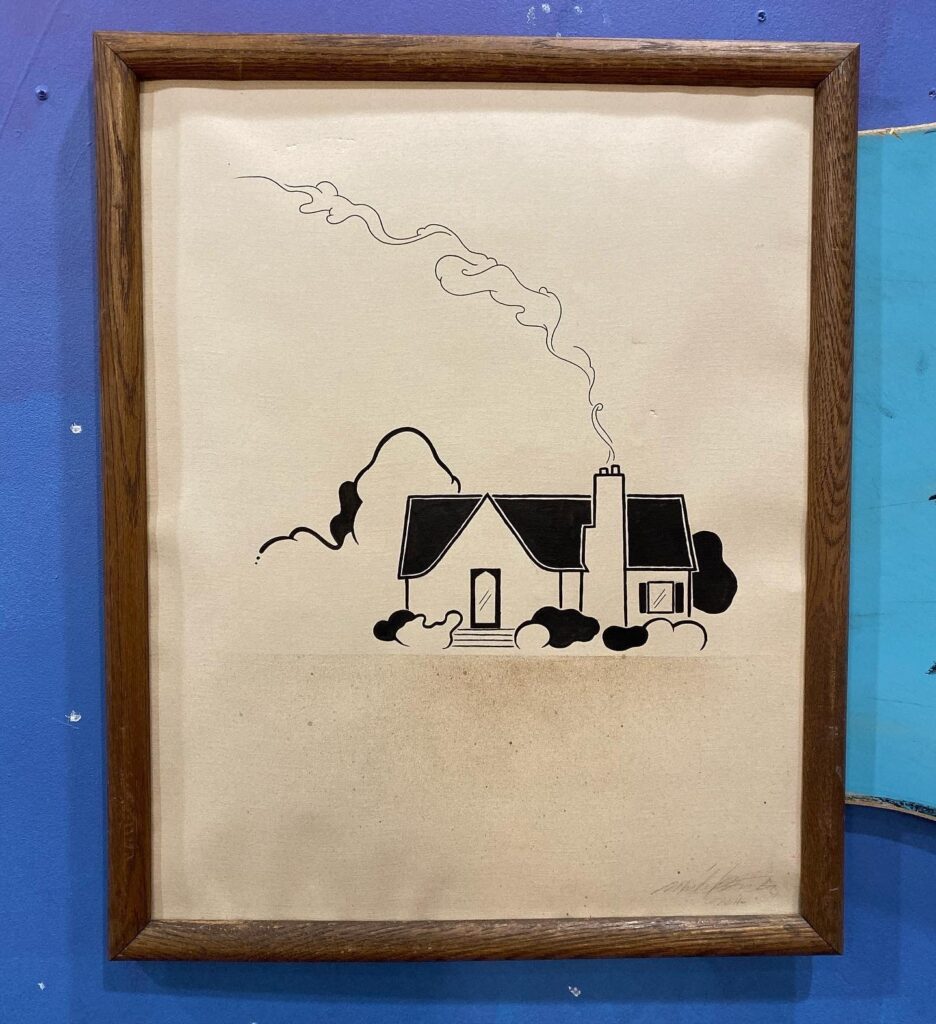 Mickael Broth, known as the "Night Owl," is this week supporting Safe Harbor RVA, an organization providing services to those experiencing domestic violence. The highest bid HERE at 10 pm on Friday, April 3 will win a drawing that he created in 2011 shortly after being laid off from his job. "At that point I hadn't been unemployed since I was 14 and had no idea what to do with myself," says Broth. "I was just walking around looking at houses and making up stories in my head about the people that lived in them. For some reason this house jumped out at me and I made this drawing. It's hung in my house for the past seven or eight years but now I'd love for someone else to have it." The drawing is 16″ x 20″ spray paint and ink on paper in a thrift store frame. "No bid is too small," says Broth. "Every dollar helps in keeping our community strong."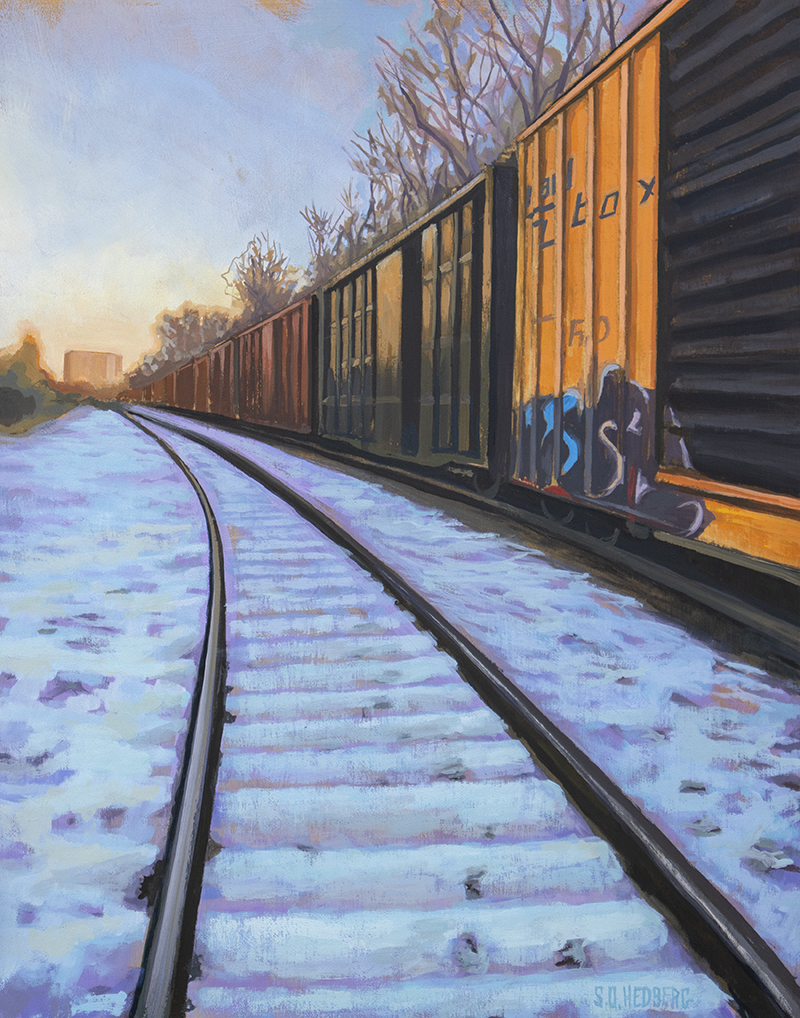 Steve Hedberg, a Ricmond artist that calls the Forest Hill neigbrhood home, is going hyper local with a painting that benefits Crossroads Coffee and Ice Cream at the intersection of Forest Hill and Semmes Avenue. "This place has been a community hub for Forest Hill, Woodland Heights and Westover Hills for years," says Hedberg. "They opened shortly after Debbie and I bought our first and only home 18-years ago, and they've been not just a coffee shop, but the center of community and culture for the surrounding neighborhoods. Bands, food, coffee, beers, business meetings, game nights, comedy, and of course, the beloved Breakfast Cabaret. Just like so many others, they have shuttered their doors during this crisis, and to make sure they're back open after this, the community is lending a hand."
Hedberg's painting is of the tracks at just east of the the Reedy Creek entrance at sunset, just blocks from Crossroads. It's called "Snow on the South Bank Tracks" and is 11" x 14" acrylic on wood panel. Like last week, Hedberg will have the piece framed with a shadowbox style wood frame at no extra cost. Bid HERE. "It's a win-win if you're in a place to put some money down on some new art. You get a painting and every time you look at it, you can think about the goodness your support brings to others."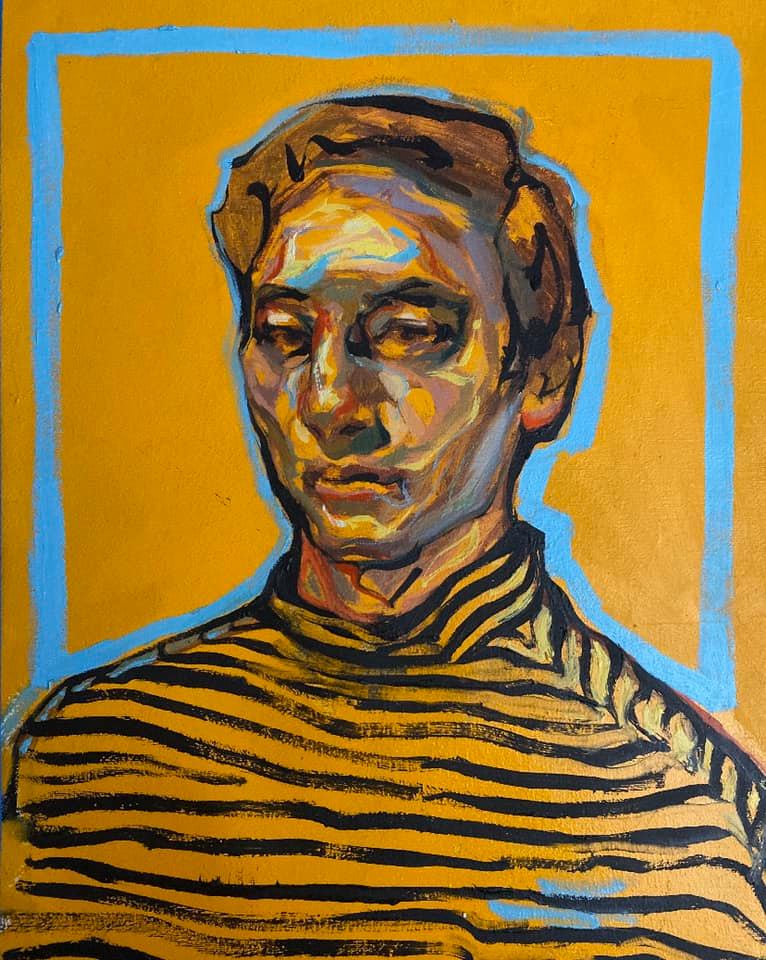 Artist Agnes Grochulska is offering "Stripes and colors," 11″ x 14" oil on canvas painting, for bidding this week on her Facebook page HERE and Instagram account HERE. Grochulska is donating 100% of the money from her auction to Central Virginia COVID-19 Response Fund. If you would like to make a bid, she asks for amounts to be placed in the comments section or a private message. The highest bid at 9 pm on Friday, April 3 will win the painting.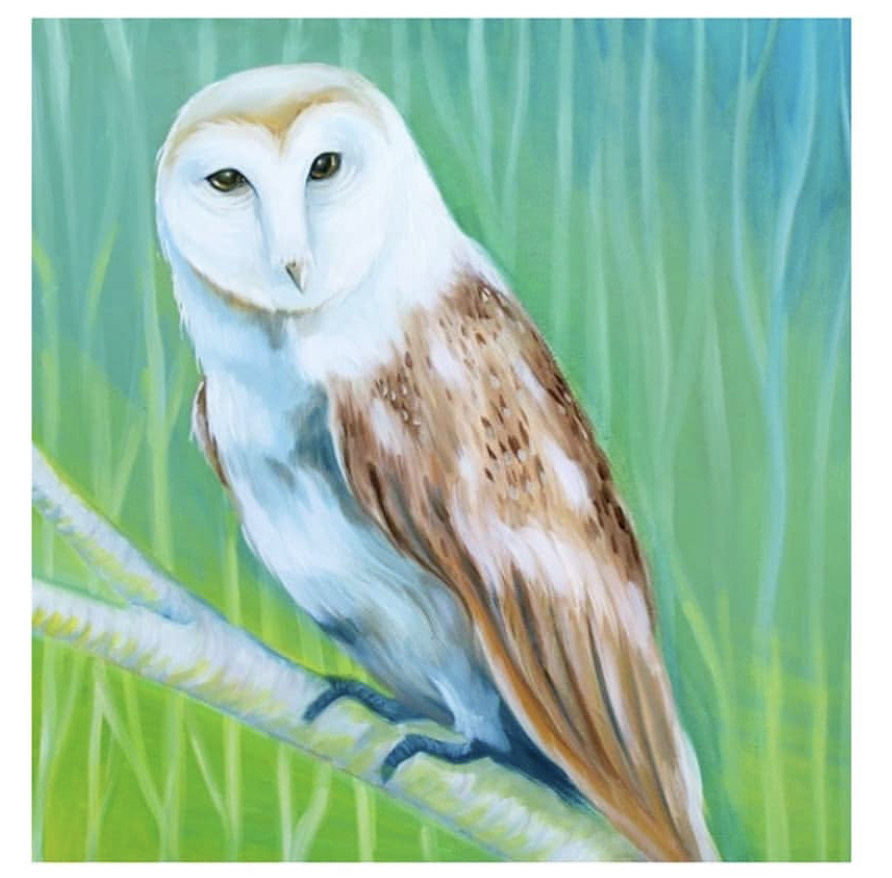 Nico Cathcart is offering "Always Watching," a 24″ x 24″ oil on canvas with proceeds benefitting Feed More's efforts to collect, prepare and distribute food to neighbors in need across 34 counties and cities in Central Virginia. To bid on her work, simply comment on Cathcart's Instagram post or send her a private message with your dollar amount HERE. The auction for "Always Watching" ends at 10 pm Saturday, April 4.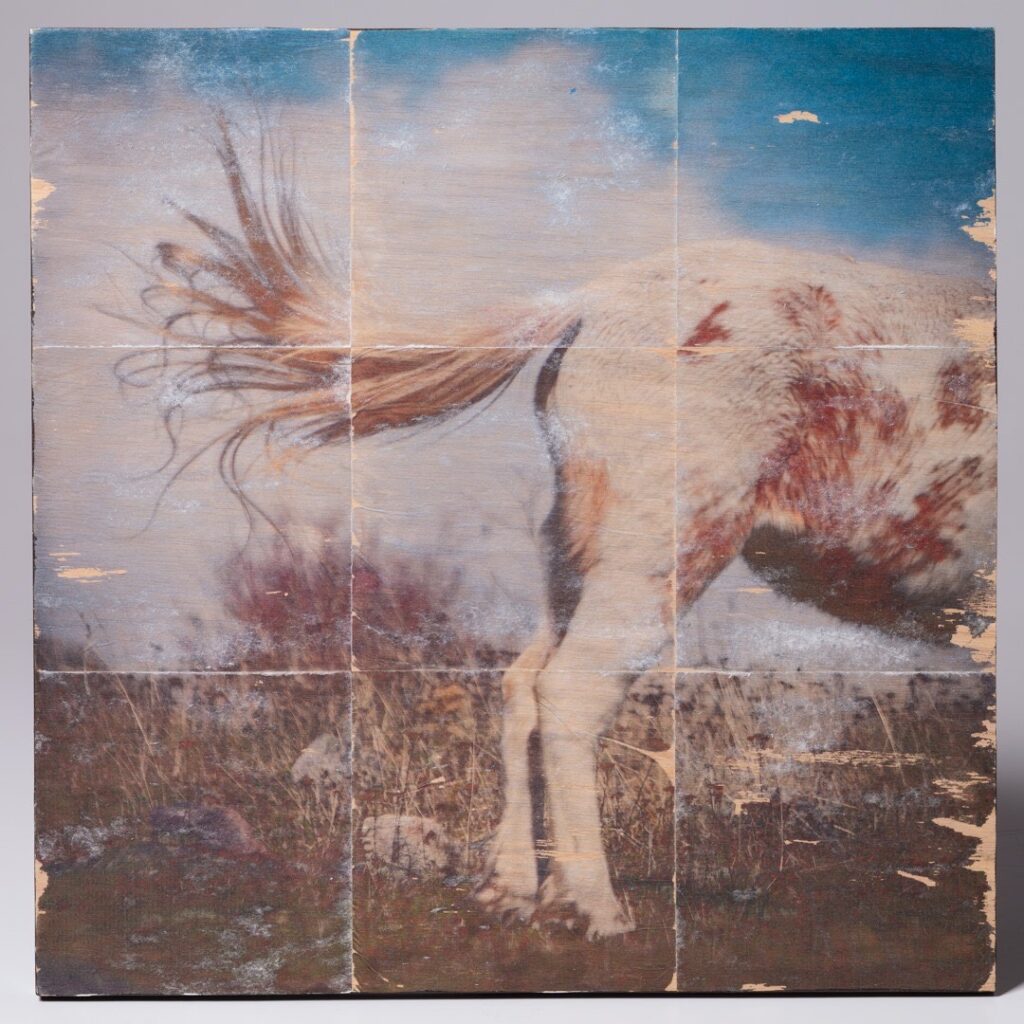 This week, photographer Jeff Saxman has come on board with a piece titled "Northbound," a 3×3 grid transferred to wood board, 18" square. Saxman will donate 100% of the proceeds from his piece to Richmond Restaurants United to assist local restaurant workers impacted by the current health emergency. Richmonders can bid in the comments section of his Instagram HERE or send him a private message.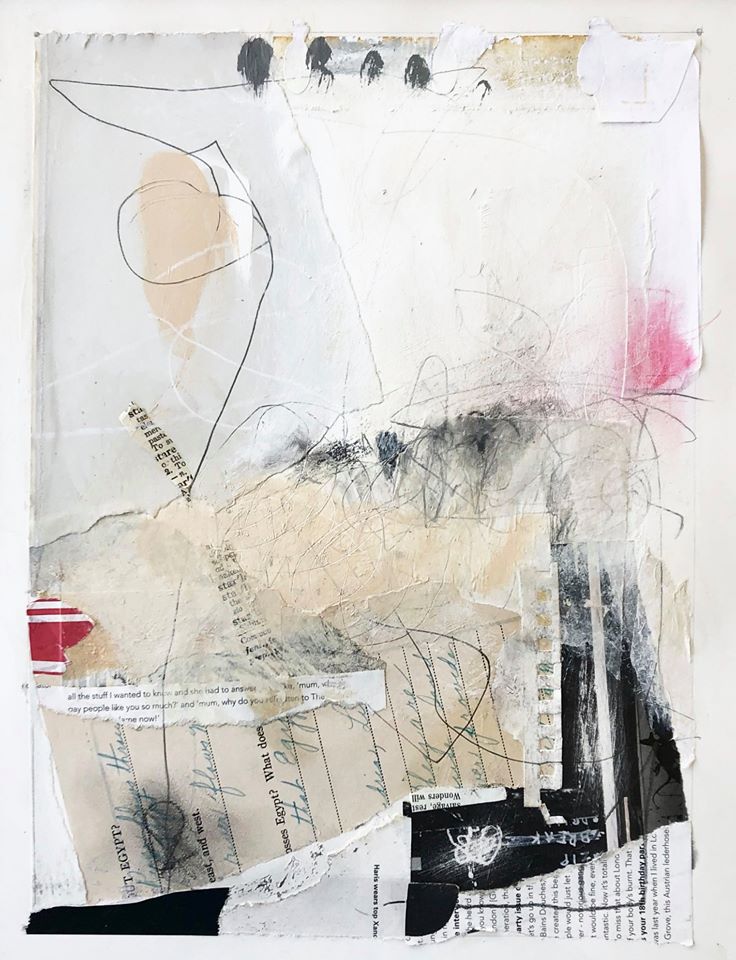 Artist Jeanne Minnix has created another collage piece this week supporting Richmond Restaurants United. Available for bidding on both her Instagram HERE and Facebook HERE, the collage/mixed media is 10.5″ x 13.5″ (in a 16″ x 20″ archival mat board, unframed, in a glassine envelope). The highest bid in the comments section on Facebook or Instagram by noon on Monday, April 6 wins.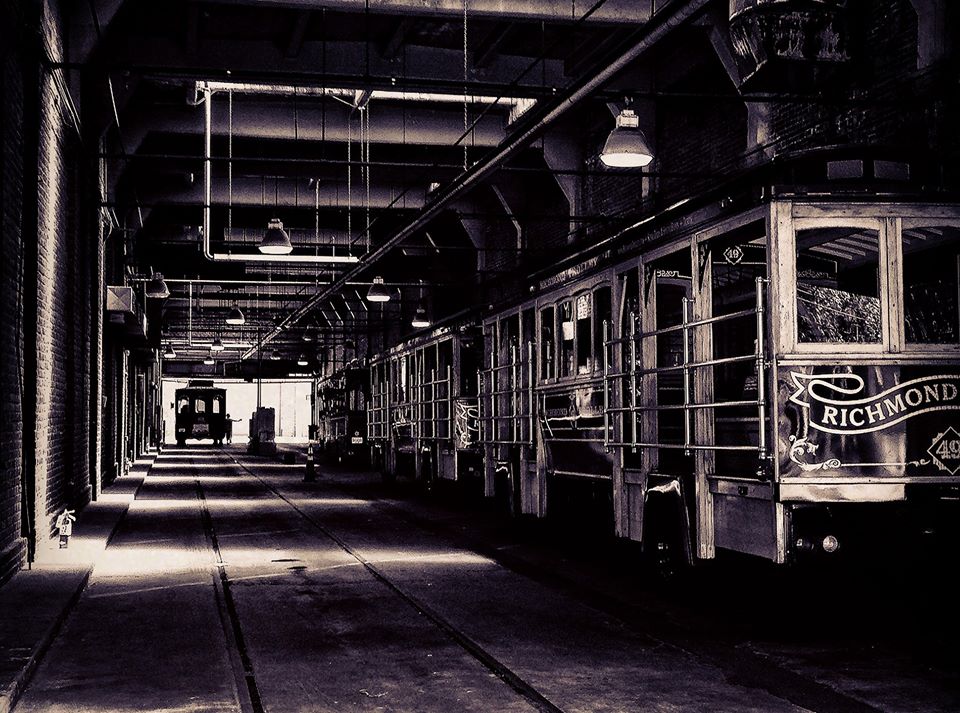 Tanya Rogish is donating a 24″ x 36″ archival pigment print on stretched canvas of the Richmond Trolly Depot. The work is available for bid on her Facebook page HERE and Instagram HERE with 100% of the proceeds supporting Help the Staff, an effort to assist local servers who have been out of work due to COVID-19. The highest bid at 9 pm on Friday, April 3 will win this archival pigment print and she will deliver it to the winner.
Best of all, this is only a handful of examples participating artists this week. Make sure to use #artistsforhope to see all of the available work. You can also check the special section of Grid's site HERE dedicated to the movement as well as the opensource list of participating artists HERE.