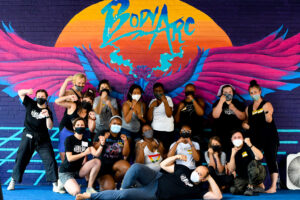 Body Arc, a queer owned private gym in Richmond, sits at the intersection of art and fitness. Here, movement is an art and every body is welcome to participate.
Richmonders who frequent Body Arc focus on building strength, health, and wellness independent of traditional definitions of beauty. And they do it in a welcoming space that transcends the traditional fitness setting through the use of local artistic creations that serve as a testament to the transformative power of art.
Brandi Walker, owner of Body Arc, previously worked at other gyms in the area and saw a need for an inclusive LGBTQ+ space in Richmond. Walker, who opened Body Arc in January 2022, now offers personal training and group classes with qualified trainers and instructors who value inclusivity and body positivity. Ultimately, Walker's goal is to grow Body Arc's approach to wellness through the blending of art and embodied movement.
"Body Arc focuses on creating a space where trainers have experience with disabled folks, LGBTQ+ folks and people of color," explains Walker.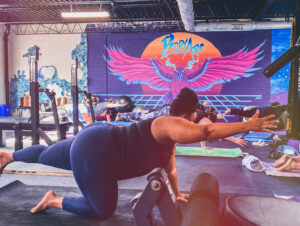 For those who are interested in working out in the empowering space without a trainer, and for those who can't afford a trainer, Body Arc offers the ability to reserve one hour time slots during its Open Gym sessions. Open time slots can be reserved online here.
Britt Hasson, a personal trainer at Body Arc who helped open the gym, describes Body Arc as, "Eclectic, diverse, and fun." Hasson is one of nine personal trainers who pay rent monthly and have the ability to set their own prices and hours.
On top of creating an inclusive and empowering environment, Hasson points to Body Arc's seven murals and support of local artists as a differentiator that sets the new gym apart from other fitness options in Richmond. "That's what makes the space so unique is the art in it," says Hasson.
In addition to open gym hours, Body Arc hosts donation-based classes like Fat Friendly Yoga  led by Jordan of Tiny Bones Yoga in partnership with the social group RVA Fatties. The gym even hosted a free field day with fun challenges like tug of war and more to celebrate pride month in June.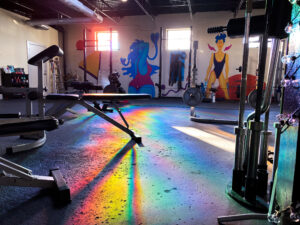 "If fitness is something you have been scared of this is the place to come explore in an environment that is designed to be a safe space and welcome you with open arms," says Hasson.
Richmonders interested in becoming a client at Body Arc can contact a trainer directly or fill out the client interest form at https://www.bodyarcrva.com/.