On any given weekend, the Manchester Wall is packed with people scaling the remnants of the Richmond and Petersburg Railroad Bridge. Peter Guyre, a rock and ice climbing guide with over a decade of experience leading outdoor excursions around the country, is often one of the many Richmonders climbing the old stone pilings. Guyre recently relocated to Richmond to pursue his passion for training kids, teens, men, and women in the art of rock climbing and environmentalism.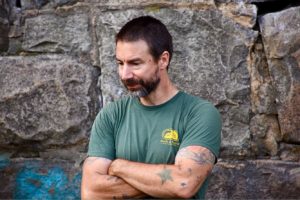 To spread his love for climbing in Richmond, Guyre joined forces with Peak Experiences, which operates one of the largest indoor rock climbing centers in the United States, to create a new climbing guide company called Peak Expeditions. In addition, Guyre launched Climb Right RVA, a bi-annual climbing weekend consisting of free clinics and an evening of fun.
Today, rock climbing gyms are sprouting up all over the country with two new locations coming to Richmond in 2018. Speed climbing, sport climbing, and bouldering will be featured in the 2020 Olympics, and with that will come more kids, teens, and even adults venturing into the relative safety of gyms to test their forearm strength against ropes, walls, and boulders.
Guyre points out that if you've been across the Tyler Potterfield Bridge, no doubt you've seen people scaling what seems unscalable, the Manchester Wall. With interest in the sport increasing, the wall is drawing in the more adventurous—and sometimes the untrained.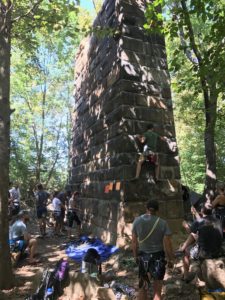 With the rise of gyms, climbers have become incredibly strong in that setting, but what happens when they want to try their hand at Manchester, the Gunks (New York), the New (West Virginia) or even out west where the mountains (and falls) are taller? Climbing outdoors is a far cry from the gym, a notion that often doesn't register until one finds oneself up on a route with no way to go up or down, or, even worse, in a life-threatening situation and no awareness, knowledge, or skills to do anything differently.
As we sit over coffee, Guyre tells stories of watching people fall from walls due to an incorrectly clipped quickdraw or an anchor not set up properly. Too many have paid the ultimate price, their life, for a mistake that could have so easily been averted with proper training or mentoring. He's watched groups drop trash on the ground and leave it, with no thought to the "pack it in, pack it out" mentality that is ingrained in the outdoor community.
Guyre's goal for Climb Right RVA is to grow a supportive outdoor climbing community while minimizing risk and installing a strong sense of respect for the environment. Climb Right RVA, modeled after Climb Smart in Joshua Tree, California, where Guyre volunteered for two consecutive years, provides beginning to advanced clinics on belaying, lead climbing, trad gear, movement, cleaning, sport routes, repelling, self-rescue, and more. The first of these clinics debuted last year for free at the Manchester Wall, with certified guides coming to RVA from all over the country to take part.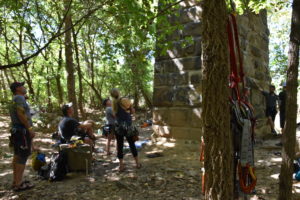 As part of his rock climbing mission, Guyre is working with Peak Experiences, the area's first rock climbing gym, to lead Peak Expeditions. Peak Expeditions offers guided trips to both local and national outdoor climbing destinations in order to teach climbers the skills they need to know to successfully and safely climb outdoors.
The wonderful thing about climbing is that it is an open, accessible, encouraging, and welcoming community. It is easy to get into and anyone can learn how to climb. With Climb Right RVA, Guyre will help climbers transition from the gym to the outdoors and do it safely, respectfully, and with a whole lot of fun.