A coalition of arts and culture partners including CultureWorks, Studio Two Three, 1708 Gallery, BAAAR, The Visual Arts Center, Art 180, Afrikana Film Fesrival, Oakwood Arts, and other arts organizations in the region have joined together to create a COVID-19 Arts & Culture Relief Fund. The purpose of the fund is to provide artists from all disciplines in the Richmond and Tri-Cities region with a one-time $500 grant to assist them during these difficult times. You can access the application HERE.
The COVID-19 Arts and Culture Relief Fund provides financial assistance to artists of all disciplines (visual, performing, or other professional artists) who have lost scheduled paid creative opportunities during the Coronavirus pandemic. While this program is open to all professional artists in need, to mitigate systemic inequalities, the program is prioritizing applications submitted by individuals who have historically been underrepresented based on race/ethnicity, age, disability, sexual orientation, gender, gender identity, or socioeconomic status.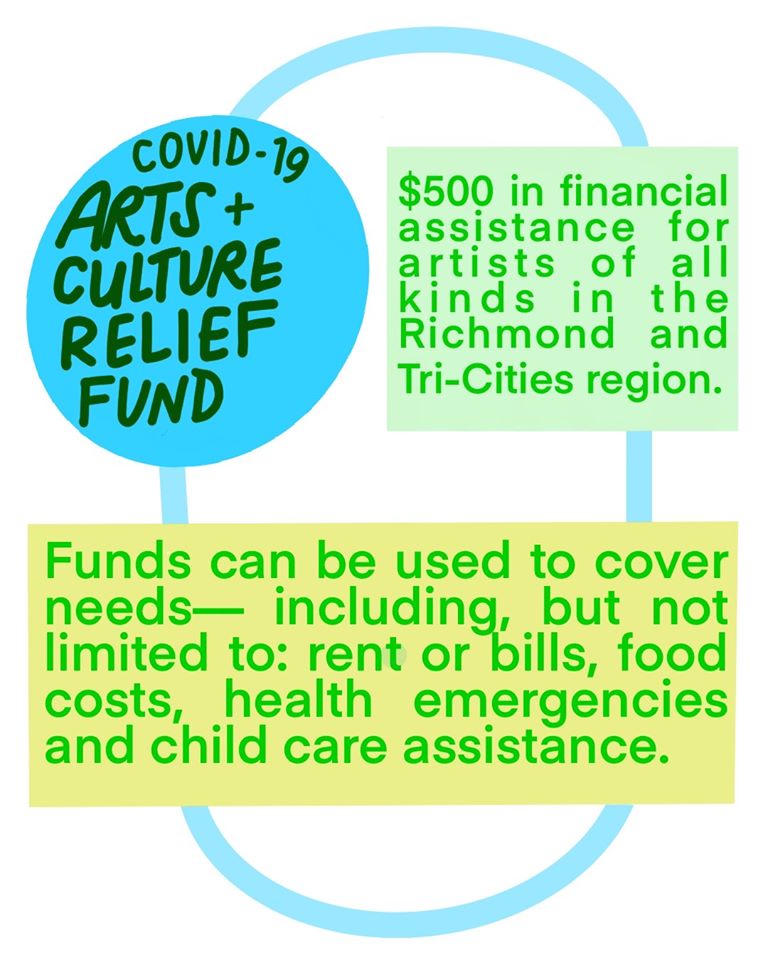 Artists can request a $500 grant to compensate for cancelled work that was lost. If awarded, funds can be used for rent, utilities, mental health services, medical care, and other basic living expenses (though not limited to these). Applications will be reviewed on a weekly basis and awards will be made based on available funds each week. Funds will be awarded based on the criteria and priorities described HERE. Funds not granted based on artistic merit.
The arts organizations involved in the fund are actively raising money to expand assistance so that to further support all types of artists who find themselves impacted by the pandemic. You can donate to the fund HERE.
The COVID-19 Arts and Culture Relief Fund is for artists who live in Richmond and the Tri-Cities region (City of Richmond, Colonial Heights, Hopewell and Petersburg, along with the counties of Charles City, Chesterfield, Goochland, Hanover, Henrico, New Kent and Powhatan, and the town of Ashland). Artists who do not live in this region are encouraged to check out all of the resources listed on the Americans for the Arts Coronavirus Resources webpage, including a comprehensive list of other emergency funds HERE.