Katrina Boone has always been drawn to the art of dance. As a child, she decorated her room with as many Degas paintings depicting dancing as possible. In between dreaming of becoming a dancer, she filled her time with a variety of art forms, especially photography. While the opportunity to dance never presented itself as she grew older, the chance to turn her lens toward dancers did.
"One of my very first jobs was as a company photographer at a local dance company. It really was a dream come true to photograph another art form I had so much admiration for," explains Boone. "I could see so many Degas paintings in my head and it inspired me to push myself to learn as much as I could in this area of photography."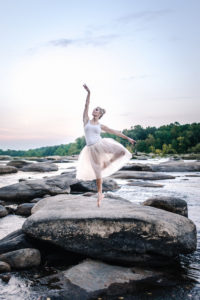 Boone began working closely with a variety of dance artistic directors who taught her the essentials of capturing the art of movement in dance. "One of my favorite quotes of Degas really drives my inner artist: 'Art is not what you see, but what you make others see.'"
Today, Boone, who is now the owner of Gianna Grace Photography, is the proud co-founder of Dancers of RVA. A collaborative project with Shannon McConville of STAVNA Ballet, Dancers of RVA was designed to capture the passion of dancers through pictures. Through the Dancers of RVA blog, Boone tells the stories of the talented dancers in and around Richmond. With each image, she also incorporates the local landscape and rich history of Richmond and surrounding areas with the dancers in their element.
"After spending years working in the dance field as a company photographer, dancers became my everyday people. Their stories, their dance journeys, and their lives intrigued me," says Boone. Within months of launching Dancers of RVA, other dancers started to notice and quickly began working with Boone to add their unique dance journey to her portfolio of work.
"Part of the uniqueness of this project is all the dancers choose their location," explains Boone. "I encourage them to choose a place that holds a special place in their heart in the city. Before we meet to shoot their session, we talk about the reason why they chose their location. We make every effort to photograph them in spots that are sacred to their life in Richmond or their dance journeys." Boone says that she has photographed dancers in studios where they've spent countless hours, in libraries where their love of books and dance collide, and in parks and streets where dancers describe finding themselves and their love for Richmond. Boone chooses her subjects from nominations submitted through her site, dancersofrva.com. "My greatest hope is these pictures and stories inspire other dancers, future dancers, and other artists to work together and create art that showcases the unique art scene in Richmond."