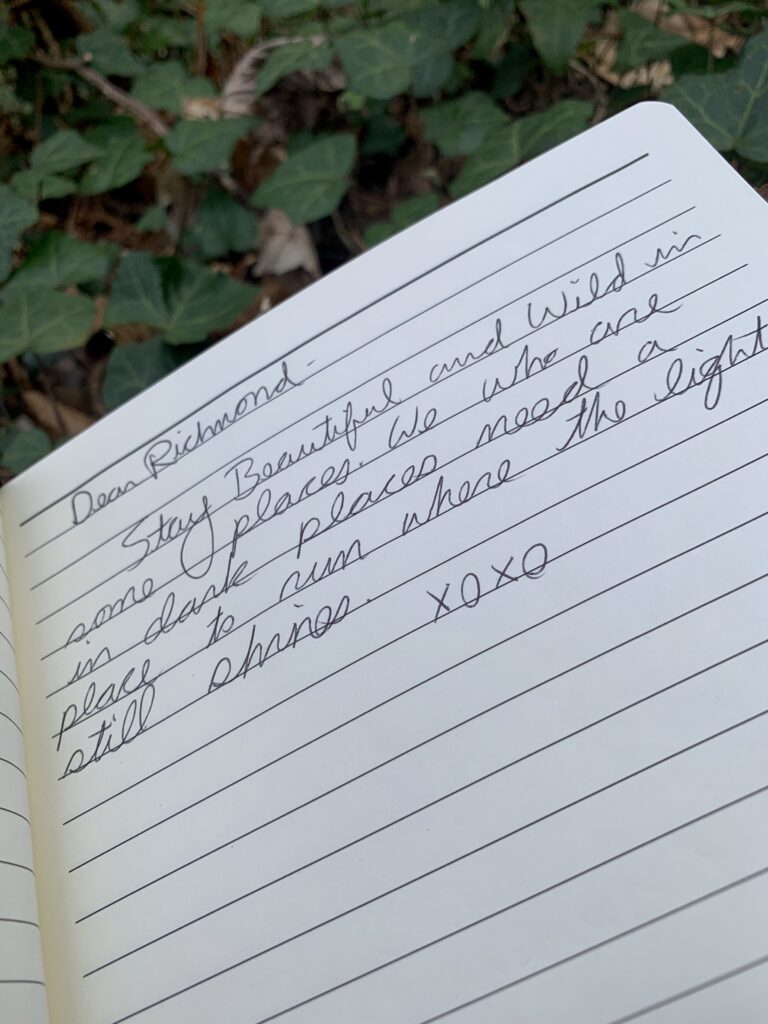 Introducing the Grid Mailbox, a journal writing experiment we've created with the James River Park System in a hidden spot along the trail. But here's the thing, you have to find it! And when you do, look inside for our "Dear Richmond" journals to leave a note, create a sketch, write a love letter to RVA or something you wish would change about it, write a call to action, leave your hopes for a better future, write the words you need to hear…or simply leave your name. It's for you to define. 
On the first weekend of installing the mailbox, Richmonders left their thoughts, well wishes, and hopes for the future during these difficult times. Here are just a few of the entries shared in the "Dear Richmond" notebook, a community journal meant for all: 
"Such a beautiful morning in James River Park System shared with my sweet love. Definitely a necessity in the midst of this crazy Coronavirus  pandemic. Get out and breathe and you'll remember it's a new day."
"We all come back to the beauty of nature – it heals the soul."
"Your woods and river keep us happy and healthy. Your green buds, flowers, and chirping birds remind us of the life spring still brings. Fellow walkers—keep your eyes open for the bright yellow Prothonotary Warbler, the unofficial bird of Richmond. It will be here in a few weeks!"
"Here's where my husband and I had our first date and fell in love. Here is where we share our years. Always grateful."
"Life is good. We are blessed to have this space. May you be healthy in body and mind. May you be safe and filled with peace and happiness."
"Saturday morning of Coronavirus season. Trails are happening. Great fresh air."
"I come to the woods here almost every day. I listen to the river, listen to the wind, take in all the new growth. I don't usually come on this trail though. Today is my first time and so special to find this! What a lovely idea. I'm from a rural part of the state, but have called Richmond home for almost 6 years. I grew up on a river, so I come here to connect to home and be present in this moment."
"Lovely almost-Spring hike on this pandemic morning. The world is shiny and new and beautiful. And I love this wonderful park and my Patti."
"Amongst all this chaos, this park system is my sanctuary. Thank you for such an incredible place to enjoy nature."
"This park and trail system can make you feel far away from the city. I run these trails year-round. This place is my personal escape."
"Walking off our Richmond brunch! No virus out here on the river! Wash your hands."
"Enjoying the trail system—one of the best parts of Richmond. Thanks for the chance to share!"
"We love this little nature escape from the city. Thank you for giving us a space to relax and connect with others."
"Stay beautiful and wild in some places. We who are in dark places need a place to run where the light still shines."
—
Grid will be collecting the "Dear Richmond" notebooks and maintaining the mailbox in collaboration with the James River Park System. Visit the mailbox regularly, share your thoughts, and check back with us regularly for updates.