Emily Herr's call for submissions was straightforward: Send a picture of a woman who's rad. The resulting mural of 26 rad women surrounding the words Girls! Girls! Girls! became something of a celebratory selfie destination in the wake of the 2017 Women's March.
From there, the Richmond artist went to work on a powerful series of murals that popped up in East Coast cities last year as part of a Girls! Girls! Girls! tour. Herr says that she simply set out to paint inclusive, realistic, and positive images in public spaces. But along the way, an epic adventure ensued. One that she says will continue to unfold in 2018.
"My goal was to help normalize the glorious variety of ways that female-identifying people occupy the world by making images that just … show that," explains Herr. She points out that women in ads and art are too often simplified into a single type of person, something that is more object than human. Herr wanted to instead normalize and celebrate women in a broad spectrum of bodies and lifestyles.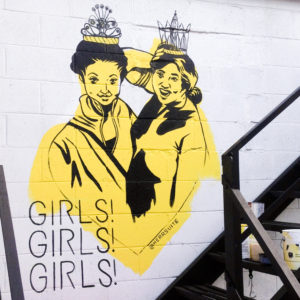 "Some people, they just sent a short 'I hope you include my daughter.' Others, though, sent short novels about their person—background, relationship, current projects, outstanding qualities," recalls Herr. "They entrusted me not just with this person's image, but with their whole story."
In Richmond, Herr quickly began painting images of the community of women who are self-employed or small business owners. "Their stories were full of success in changing the world around them, balancing life and home, and mutual support for others in their position," says Herr.
She then took her work on the road, naming it the "Girls! Girls! Girls! Tour," in hopes of spreading her message from Virginia to Vermont. Hitting each town in the HerrSuite mobile studio, she painted as many walls along the way as possible with the help of assistant, Sarah Apple. Together, the duo experienced chance encounters in Brooklyn, stumbled upon a mural party in D.C., asked for the trust of a stranger in Philadelphia, met family in West Hartford, painted 24 people into a neon mural at a thrift shop in Burlington, and had an unexpected vehicle breakdown in Glens Falls, New York.
"Like all travel, the main learning experience of this trip was just to experience a little more of the world," says Herr. "I met many, many new people and was introduced to many more via these submissions. Travel to me does not feel like a luxury—it feels like a necessary education experience to remind you how big the world is. We travelled through a very small part of it, largely surrounded by people very similar to us in many ways, and even so it was a potent refresher on that lesson."
Herr points out that the lesson has just begun: "I consider this trip a practice run, a scouting mission, a learning experience by which to plan a much, much longer and larger-scale adventure." In 2018, Herr aims to reenact the tour across the entire country, plotting out a combination of large murals and small pieces along the way. "Most artists find some kind of balance between commissioned work and a personal practice. My goal is for my personal work to be as much a part of the visual landscape as my client-work, and use that platform to create change."
Herr's initial trip now serves as proof of concept for larger funding and more planning in the year ahead. She says that she will again launch a call for submissions and will not ask wall owners to pay for the murals so that she can maintain creative control over the image. She'll generate funds for her gas, paint, and food through continued t-shirt and print sales as well as accepting donations through fiscal sponsors like Studio Two Three. Herr has also worked with a handful of sponsorships from the local Richmond business community, such as Campfire+Co, Chesapeake Bank, Worse for Wear, and Cut Cut Creative.
"The first tour is done, but the project is far from over," promises Herr. Watch for the latest developments at herrsuite.com.