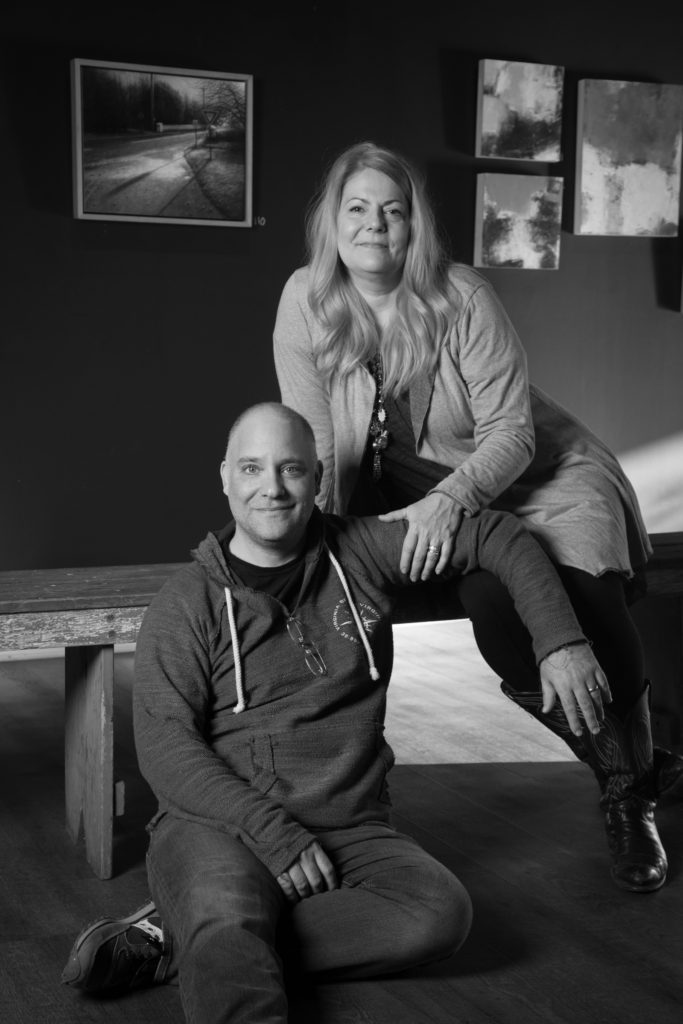 Knowing when a piece of artwork is finished can be the hardest part. For an artist, however, the act of creating never truly ends. You simply continue the journey on the next canvas.
BJ Kocen and Jennifer Glave have finished one of their greatest forms of expression—the glave kocen gallery—but their creative journey will continue to evolve. Today, the husband and wife gallery owners announced their difficult decision to close their 13-year-old gallery in the Fan District at the end of June. In typical glave kocen gallery fashion, the news comes with new opportunities to inspire community and creativity through art.
"It's going to be tough to shut off the lights on that last day, but we're not going to disappear," insists Kocen enthusiastically. "The fact that the gallery is going away is going to allow room for our vision to do even more than what we've accomplished here. And that's the exciting part. This is a happy ending."
In the past year, Glave and Kocen have wrestled with the strain of running a growing gallery while caring for aging family members who required more and more of their attention. At the same time, they became the new owners of the Current Art Fair, an annual event that features commercial galleries alongside young, emerging, and mid-career artists. This fall, the couple experienced the passing of Glave's father while organizing and hosting the Current Art Fair on top of exhibitions at the gallery and a series of seminars.
"We just dug in," recalls Kocen. "Because what else are you going do at the point? But when we got to the other side, we went away and reflected on everything that had happened." Kocen says that process resulted in the decision to make more room in their lives for themselves and their family members. But that doesn't mean they're finished creating, as the duo plans to focus on their next body of work—building and expanding the Current Art Fair.
A Love Affair with Art
Kocen, a talented local musician, initially met Jennifer Glave in 2002 on a sidewalk in Ashland, and they've shared a love of celebrating art together ever since. On September 7, 2007, the duo opened the glave kocen gallery on West Main Street in a building once owned by Kocen's grandfather and great grandfather. Over the years, the couple grew the business to represent more than 30 artists while hosting an average of 15 shows a year (many of which have become legendary in Richmond's art scene).
With an eye for talent, glave kocen gallery has represented some of the area's most celebrated artists—including the likes of Ed Trask, Matt Lively, Noah Scalin, Sarah Gayle Carter, Alex Nyerges, Rob Browning, Krista Townsend, Marlowe Emerson, Cassandra Kim, Josh George, Marty Johnson, Stanley Rayfield, Steven Walker, just to name a few.
"The glave kocen gallery was the first gallery that represented me, and I can honestly say that BJ Kocen and Jenn have spoiled me," recalls Steven Walker, a popular artist who launched his career the year that glave kocen gallery first opened. "Although it started out as a business relationship, I consider them to be family." Walker says that it's almost impossible to find gallerists who are as attentive, hardworking, and thoughtful as Glave and Kocen. "I honestly don't think that the Richmond art scene will be the same for a while," he adds.
Beyond the Brush
Beyond representing artists, the owners of glave kocen gallery are known for their knack for collaboration combined with an ability to create unique experiences in their gallery space. "It goes back to community," explains Kocen. "It has always been important to us to maintain a place where everyone who walked in the door felt welcome. When we first started, a stereotypical gallery felt stuffy, and you had to worry if you were wearing the right clothes."
In contrast, he says that glave kocen gallery was designed to feel like coming home. "When you walk into our gallery, we're wearing jeans and you're greeted by our dog Lucy. Van Morrison might be playing and we'll offer you a drink. The idea has always been that people need a safe place to look at art."
That philosophy resulted in numerous groups and nonprofits seeking out glave kocen gallery for a variety of community events in recent years. Feast RVA, a nonprofit that brings local creatives together to help someone else's creative dream come true, has used the venue to raise funds for favorite projects that push Richmond forward. Richmond Folk Festival has tapped into the gallery for years as its location of choice for unveiling the annual commemorative poster design. And the gallery once hosted Rock & Roll: A Retrospective of Baron Wolman and Bob Masse, serving as the first time the two visual artists known throughout the music industry traveled to Richmond to collaborate.
For Glave, a favorite milestone was a pivotal fundraiser at the gallery that raised money for Massey Cancer Center as a favorite milestone. "My sister was diagnosed with breast cancer and we wanted to do something. At that point, however, we had never hosted an art auction, but we pulled one together in a month and raised over $17,000 in a single night." Since that time, the gallery has been used creatively to raise awareness and funds for a variety of causes.
In addition to fundraising opportunities, the gallery recently hosted Hung Juried, its first juried exhibition of artists who had never exhibited at the gallery. The gallery received work from across the country, and in the end, 60 artists were selected for the show with one winner receiving their own exhibition. "BJ took it upon himself to personally write a note to every artist that wasn't accepted to tell them why and to provide ideas about what they could do differently," says Glave. She says it was this experience that propelled the couple into helping new artists better understand the gallery business, an endeavor they will continue in the form of seminars and consulting after glave kocen gallery closes.
A Fitting Thank You
Before the doors close, Glave points to an all-star lineup scheduled for the first half of 2020, including major exhibitions at the gallery along with their growing consulting and seminar business for artists. Upcoming exhibits include Size Doesn't Matter Small Works, a Ted Turner retrospective in January, followed by From Me to You (a love and music group exhibit) in February. In March, the gallery continues with the NCECA Annual Exhibition, Burdens of History, co-hosted with The Visual Arts Center of Richmond. And in April, glave kocen gallery welcomes Matt Lively and Ed Trask, followed by Christopher Peter, Stephen Walker, and Mary Van Landingham in May. Fittingly, the gallery will conclude with a photo exhibit celebrating local artists by John Henley and Sarah Gayle Carter.
"We've planned a final season that will serve as a fitting thank you," says Kocen. "At glave kocen gallery, it's good night, sweet prince, and flights of angels sing thee to thy rest."
But with that, there's a familiar twinkle in his eye. It's clear that it's impossible for any artist, and anyone who loves art, for their work to be truly finished.