The art of DJing is about striking a balance. You want to give your listeners just the right mix of songs they love, while not being afraid to introduce them to new music they've never considered. Anthony Bryant, known as DJ Ant Boogie, has found that sweet spot. Whether he's spinning records at a rooftop downtown or making moves in the retail industry, he's known for setting just the right tone.
It came as no surprise when Bryant turned his attention to a tiny storefront on Broad Street that he named Little Nomad. A children's apparel shop, Little Nomad provides a thoughtful balance of goods for kids and the modern family lifestyle. Bryant, who has two kids of his own, created the concept for the shop with wife, Nora, in 2017. Together, the duo launched an Indiegogo campaign that made Little Nomad possible.
"We wanted to create a place that was inviting and comfortable for parents as well as their kids," says Bryant. "The goal for Little Nomad was to create a playful feel for kids to hang out and not yank on their mom and dad to say, 'Let's go, let's go.'"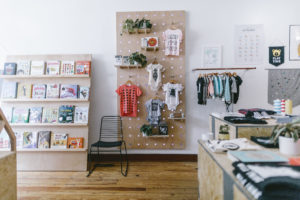 Inspired by hip hop culture, Little Nomad has quickly become home to a fresh mix of clothing, books and toys that serves as a modern alternative to what's typically found in the
big box shopping experience. To set the stage for their shop, the Bryant family teamed up with local artists and makers to add a touch of humor and curiosity to both the décor and product offerings.
"We wanted to show that retail could be a little different," says Nora Bryant. "Too often people feel that shopping at a small business is out of their means, but we've worked really hard to make sure Little Nomad is at an accessible price point for all families. Inclusion is a big part of what we're offering."
To make their vision possible, Anthony Bryant says that a lot of digging is involved when selecting the right product mix for their shop. "It's just like digging for records … if you don't find it at first, it just takes a little more digging."
As the shop grows in 2018, the Bryant family says they'll continue to open their space to more and more community-focused events, in hopes of sparking conversation with all Richmonders, hosting civic meetings, and providing workshops for families and their children.