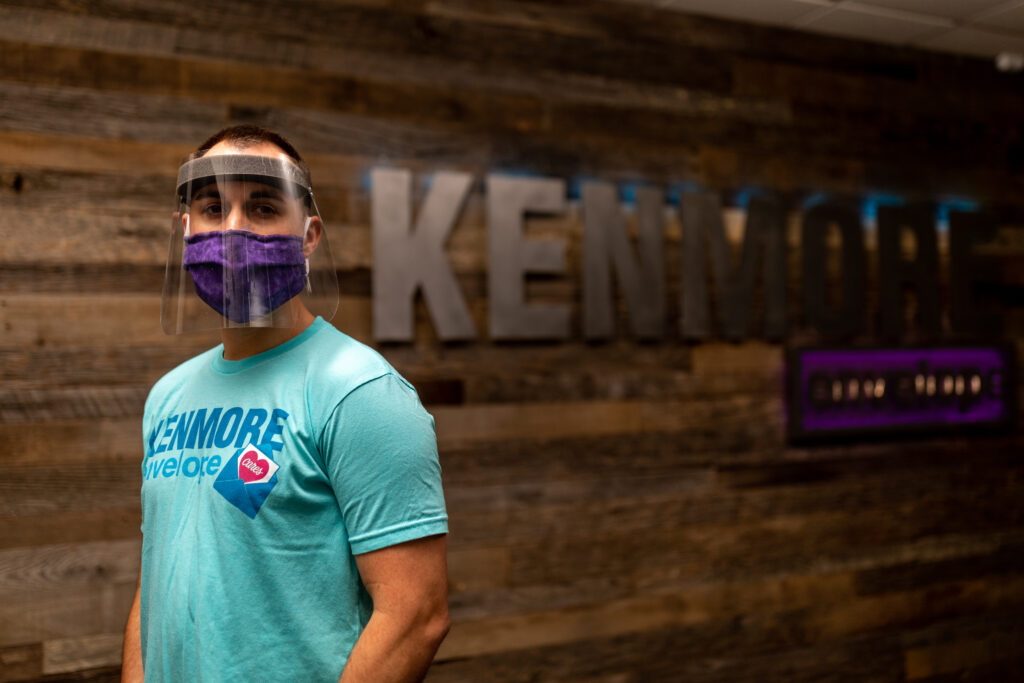 Do it for others. Do it for love. Do it for kindness. We don't really care why you do it — just Mask Up, RVA. Sporting a facemask isn't political, it's smart. It shows self-discipline, self-sacrifice, and a commitment to community. That's why we've teamed up with photographer Nick Davis to launch the "Mask Up, RVA" series.
Starting today, Davis is doing what he does best — capturing compelling images of those in the Richmond area who do their part to make it a happier, healthier, and more inclusive place to live. We're combining powerful images and words that Davis has collected from local, small businesses responsible for creating a variety of face shields and masks that are helping us push through the current pandemic. These are the people who roll up their sleeves during a crisis. These are the people who proactively find solutions and look for ways to use their unique talents. These are the people that give us no excuse not to mask up.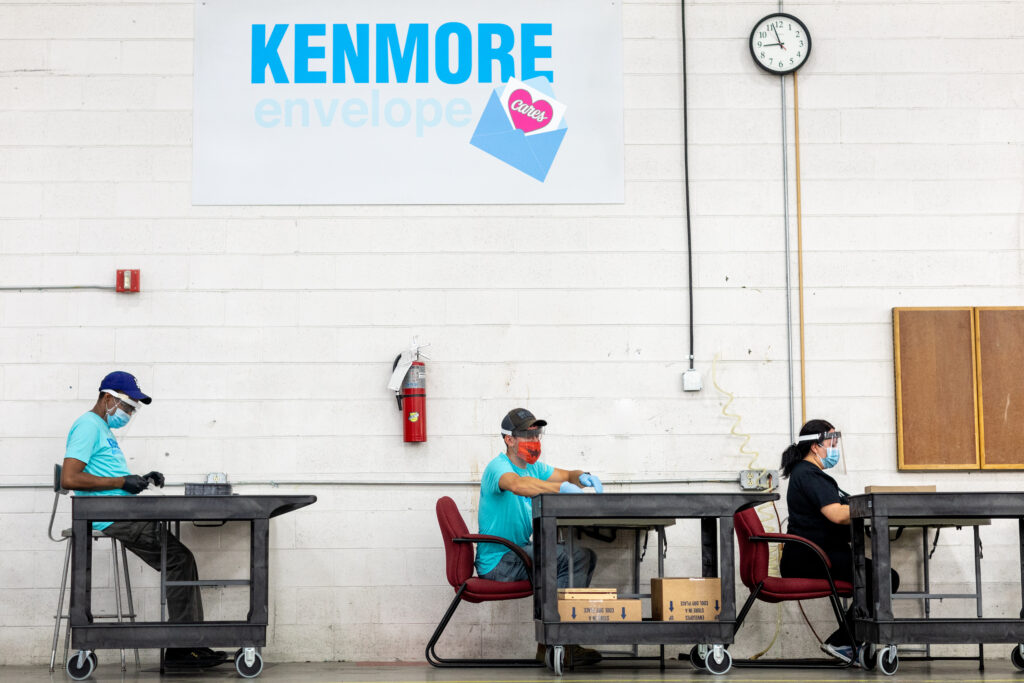 With that in mind, let's meet Kristin Ogo, chief operating officer at Kenmore Envelope Company. Founded in 1969, Kenmore's team of over 85 employees create large, medium and small envelopes from all paper types with special windows. They offer everything from large format offset sheet fed, jet press and enhanced flexo printing to digital pre-press, die cutting and folding. And now, they make face shields – to the tune of 250,000 as part of the "Kenmore Cares" initiative. Take it way Kristin … 
Please describe your business model prior to the current health crisis and how it has evolved in recent months.
Kristin: Kenmore Envelope is the premiere leader in high end direct mail. Our niche is high-quality printing and converting envelopes.

Please describe when and why you shifted to producing personal protection equipment.
Kristin: In late March, after seeing that PPE was in low supply, our CEO, Scott Evans, began brainstorming on how we may be able to help. After research and discussion, we realized we had the equipment and manpower to create face shields. That is how "Kenmore Cares" was born.
Can you describe how many masks you've created and your process.
Kristin: We have produced over 250,000 face shields. We take rolls of anti-fog plastic and have those sheeted into flat sheets. From there, the sheets are put through a die-cutter to create the individual shields. Everything following the cutting of the plastic is done by hand. We place the comfort foam, attach the elastic band and individually wrap each shield.
What makes your masks unique?
Kristin: We are fortunate to have a made-in-the-USA product, one that includes comfort foam that's harder to come by. We ship direct out of our Richmond facility across the country.

Can you share any community outreach efforts, donations, and partnerships you've launched as part of your mask making efforts.
We are so fortunate and grateful that we have been able to donate shields to hospitals, first responders, nurses, senior centers, dental offices, manufacturers and many small businesses. Please send an email to [email protected] if you are in need. We have limited quantities and we want to help while supplies last.

What are your plans for reopening and how can the community support you.
Fortunately, Kenmore Envelope Co. was deemed an essential business due to the fact that we support the USPS. Since March, we began putting social distancing efforts in place and those efforts have gone well over the past few months. What we love seeing from the community is how other individuals and businesses are also helping. They are pivoting to the needs of the nation in many ways and we're glad we can help as well. If you'd like to donate a box on behalf of yourself or an organization, you can do so on our website: https://shop.kenmore-envelope.com/