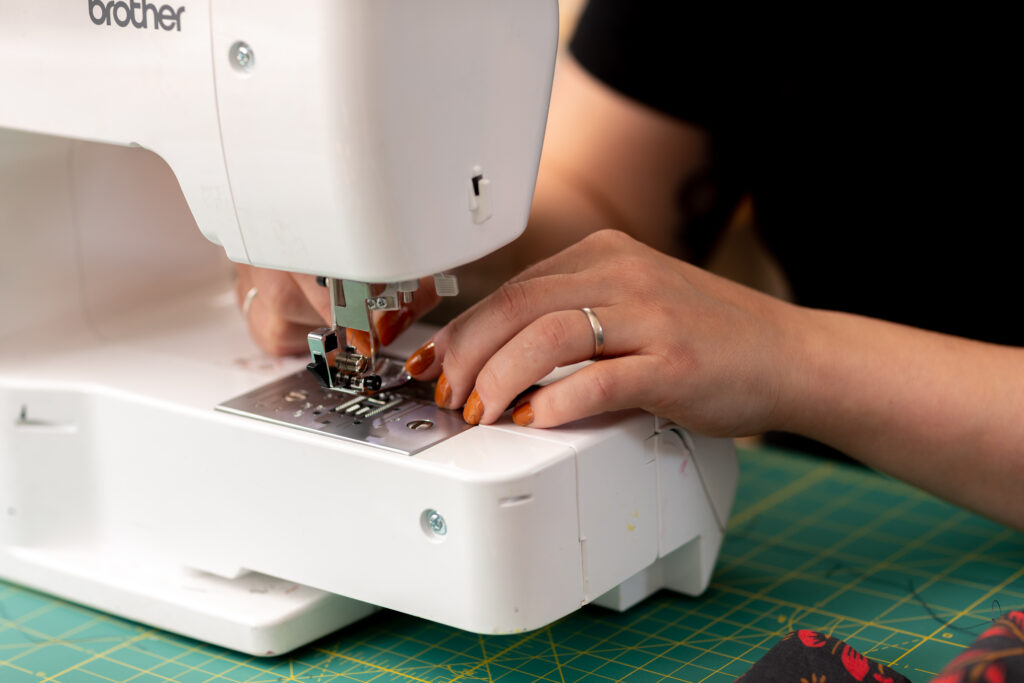 Do it for others. Do it for love. Do it for kindness. We don't really care why you do it — just Mask Up, RVA. Sporting a facemask isn't political, it's smart. It shows self-discipline, self-sacrifice, and a commitment to community. That's why we've teamed up with photographer Nick Davis to launch the "Mask Up, RVA" series. 
Davis is doing what he does best — capturing compelling images of those in the Richmond area who do their part to make it a happier, healthier, and more inclusive place to live. We're combining powerful images and words that Davis has collected from local, small businesses responsible for creating a variety of face shields and face masks that are helping us push through the current pandemic. These are the people who roll up their sleeves during a crisis. These are the people who proactively find solutions and look for ways to use their unique talents. These are the people that give us no excuse not to mask up. 
With that in mind, let's meet Emily Delahunty, owner and designer at Morris + Norris. Emily says that she grew up dreaming of becoming an artist—drawing, painting, and always making something. "I knew I'd love nothing more than to create. Even in the Painting and Printmaking department at VCU, I never could choose a medium in which to focus," says Emily. Today, she works on and in an array of projects and mediums at Norris + Morris. 
Take it away, Emily …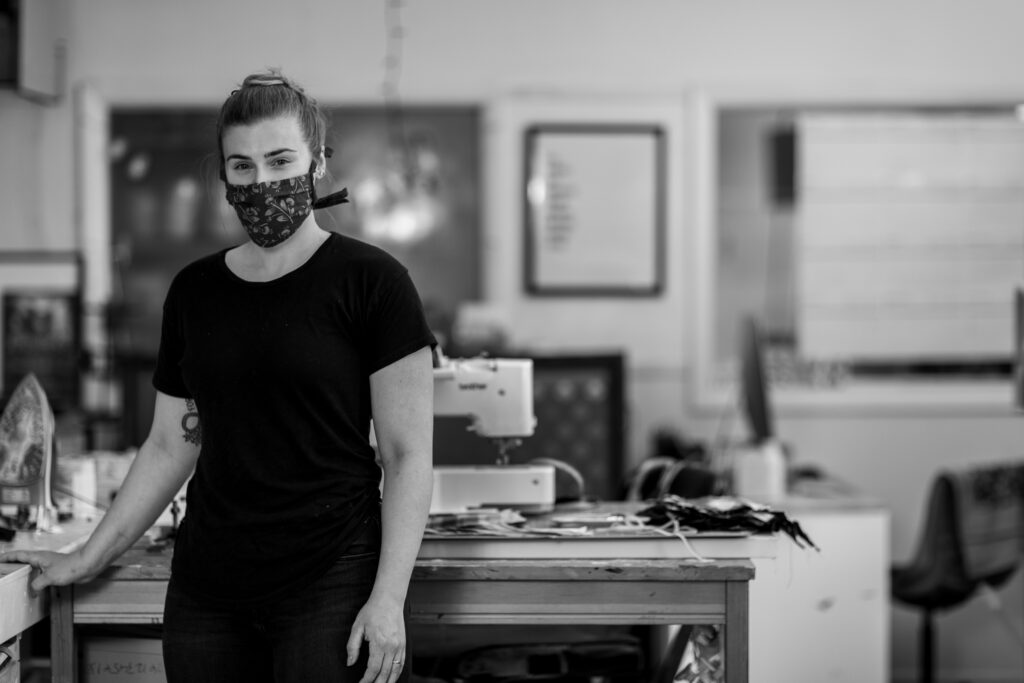 Please describe your business model prior to the current health crisis and how it has evolved in recent months. 
Emily: I primarily do in-person sales via shows during the calendar year. Other income streams are from my wonderful wholesale and consignment accounts. Events have been postponed indefinitely, and storefronts have been closed or required to have limited hours, etc. In lieu of these pre-coivd two revenue options, I've shifted into a focus on creating custom orders. Tiny hand painted wooden house portraits, and custom textiles and online sales have become the focus of my business in the last few months. 
Please describe when and why you shifted to producing personal protection equipment. 
Emily: I started researching the methods and science behind what makes effective non-medical grade coverings in early March. I sent out about 30 test samples to acquaintances who had essential jobs yet few PPE issued to them. With their feedback, I evolved the design. I took inspiration from the incredible folks over at RVA Masks 4 Health, who have (to date) made and donated about 30,000+ masks in the Richmond area. While I would have loved to operate purely on a donation basis, I needed to replace lost income. Therefore, for every two masks purchased, one was made available for donation. I donated some proceeds from the initial batch of masks to RVA Masks 4 Health for supply purchase, since I was unable to produce anywhere near the quantity I had hoped for donation. 
Can you describe how many masks you've created and your process. 
Emily: About 100. They're made of three layers, one 'front' panel, a middle filter, and the backing. Three 9×7 squares are cut, sewn, nosewire added, pleated, sewn, and two 36″ long ties are affixed on the short side of the mask. The steps of cutting, sewing, nose wire making, pleating, etc are time consuming, so I tend to do each task in batches.
What makes your masks unique?
Emily: The patterns available for purchase are textiles designs I have created. 
Can you share any community outreach efforts and partnerships you've launched as part of your mask making efforts. 
Emily: I made elastic masks for CocoLemon salon so the masks wouldn't prevent stylists from cutting hair. I'm still learning how to make masks that fit a variety of needs and face shapes. 
How can the Richmond community support you, find your work, and purchase your masks?
Emily: My work is always available online at morrisandnorris.com, and in local stores. Mask releases will be announced via social media. As for 'normal' shopping opportunities, I am not sure how the fall/winter retail show schedule will operate. We're all in a wait and see holding pattern!