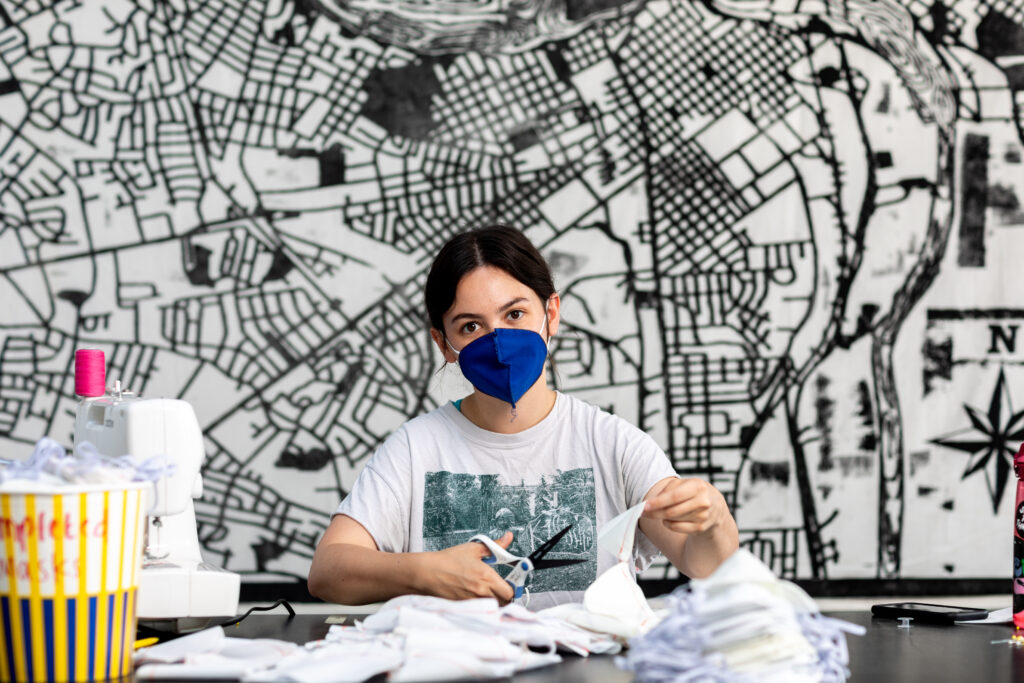 Do it for others. Do it for love. Do it for kindness. We don't really care why you do it — just Mask Up, RVA. Sporting a facemask isn't political, it's smart. It shows self-discipline, self-sacrifice, and a commitment to community. That's why we've teamed up with photographer Nick Davis to launch the "Mask Up, RVA" series. 
Davis is doing what he does best — capturing compelling images of those in the Richmond area who do their part to make it a happier, healthier, and more inclusive place to live. We're combining powerful images and words that Davis has collected from local, small businesses responsible for creating a variety of face shields and face masks that are helping us push through the current pandemic. These are the people who roll up their sleeves during a crisis. These are the people who proactively find solutions and look for ways to use their unique talents. These are the people that give us no excuse not to mask up.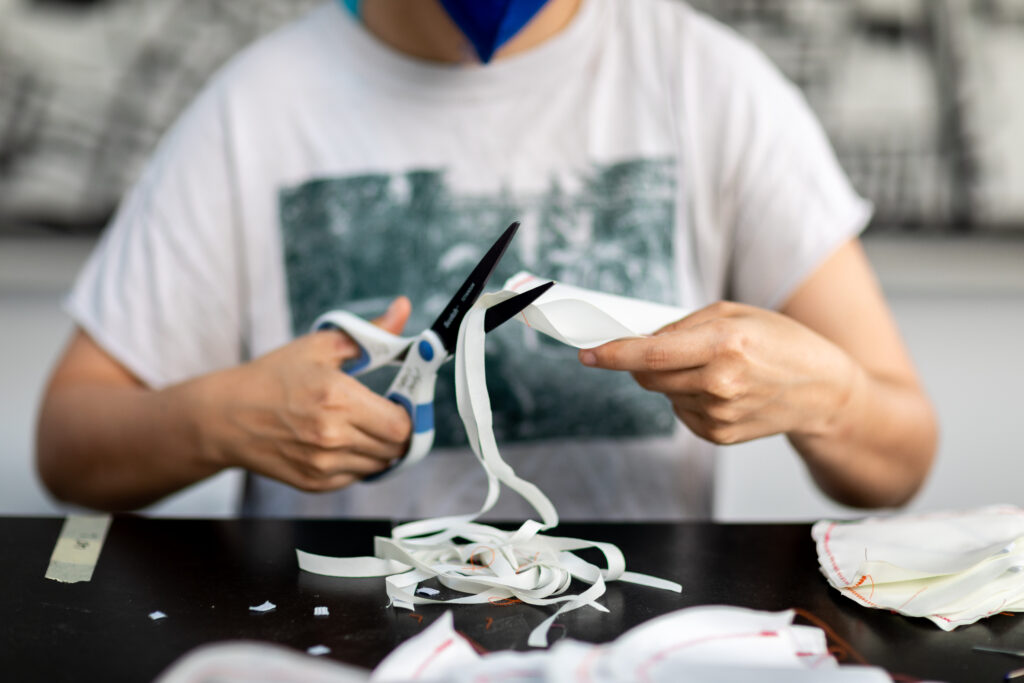 With that in mind, let's meet Kate Fowler, development director of Studio Two Three, a nonprofit located in Scott's Addition. At Studio Two Three, Kate and her colleagues work to give people the space, tools and classes they need to find that thing they love — and make it. Studio Two Three features studio facilities, co-making workspace, classes and workshops, community events, lectures, and artist memberships, just to name a few. Over the past 12 weeks, Studio Two Three has used its space and talents to make and distribute 10,000 masks. 
Take it away, Kate … 
Please describe your business model prior to the current health crisis and how it has evolved in recent months.
Kate: Studio Two Three has a community-centered model and we've been fortunate to thrive off of 70% earned income from all of the members who call this space their creative home. In 2017 we expanded our studio to include an event space, which has allowed us to offset the cost of studio membership and keep our studio spaces and communal membership affordable. Our artist community is at the heart of what we do so we're always striving to find ways to keep our doors open and accessible. 
We offer a range of programs –– from field trips in our print truck to weekly classes, seasonal art fairs and vender markets, events and weddings and a community printshop.  
Please describe when and why you shifted to producing personal protection equipment.
Kate: We have long argued that artists have a unique capacity to use their hands and their creativity to address complex community issues. Our good friend Jon Sheridan from VCU Photography & Film reached out at the beginning of COVID-19 closures to see if we'd be interested in partnering on mask making. We immediately recognized that we were fortunate to have the space and facilities to safely distance volunteers and coordinate an effort of this scale, as well as a committed community of artists who are skilled with their hands. It was a natural fit for us. 
Can you describe how many masks you've created and your process.
Kate: We just wrapped our mask-making efforts at the studio! We worked for 12 weeks to reach our goal of making and distributing 10,000 masks. 
Our process is fairly streamlined, thanks in part to a great partnership with the Community Foundation of Greater Richmond. We created 8 stations that are spaced at least 15 feet apart, spread out across our large event space. Two of the stations are dedicated to mask assembly and 6 stations are dedicated to sewing them together. 

We adapted a mask template provided to us by VCU Health, which is a two-layer reusable mask with elastic. They are simple, can be worn over N-95 masks or alone and can be washed. We used a high-quality cotton and poly blend with a tight weave, provided to us by U-FAB. 

The Community Foundation managed volunteer sign-up and coordinated pick-ups from local organizations and essential workers. 
What makes your masks unique?
Kate: Our masks are simple, straight-forward, reusable and they get the job done! What makes them unique is that they're made with love and care from Richmond's artist community. 
What are your plans for reopening and how can the community support you.
Kate: Thanks for asking! We are in the process of relaunching our classes to meet the needs of this time. We'll be offering small-scale, socially-distant hands-on art classes in our large event space. 
We're also preparing to launch small-scale weddings and events. Follow along on our social media @studiotwothree