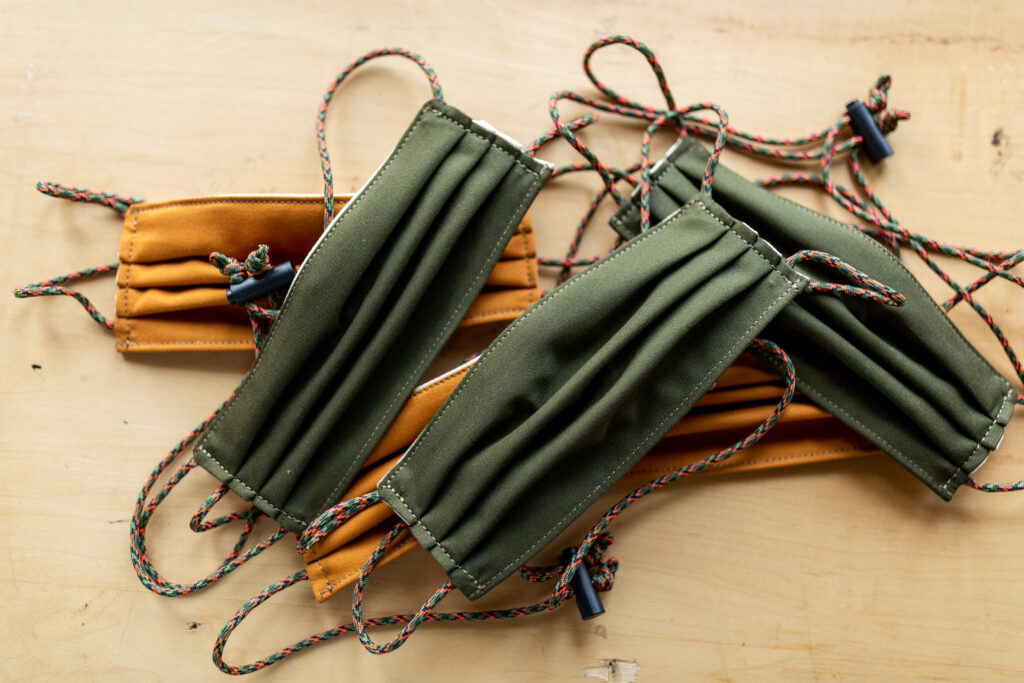 Do it for others. Do it for love. Do it for kindness. We don't really care why you do it — just Mask Up, RVA. Sporting a facemask isn't political, it's smart. It shows self-discipline, self-sacrifice, and a commitment to community. That's why we've teamed up with photographer Nick Davis to launch the "Mask Up, RVA" series. 
Davis is doing what he does best — capturing compelling images of those in the Richmond area who do their part to make it a happier, healthier, and more inclusive place to live. We're combining powerful images and words that Davis has collected from local, small businesses responsible for creating a variety of face shields and face masks that are helping us push through the current pandemic. These are the people who roll up their sleeves during a crisis. These are the people who proactively find solutions and look for ways to use their unique talents. These are the people that give us no excuse not to mask up.
With that in mind, let's meet Matthew Hawthorne, the founder of Wheelborne Bag Co.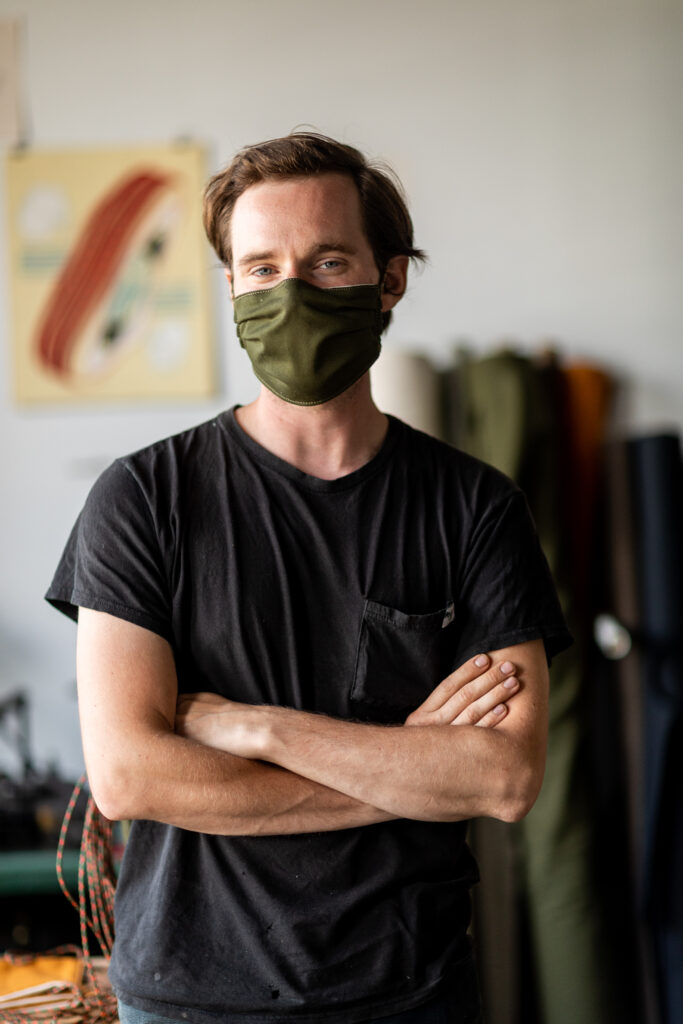 Matt launched Wheelborne Bag Co. in 2015 in an effort to create motorcycle gear that could accentuate the timeless aesthetic of his favorite two-wheel machines. Today, his high quality carry-alls and motorcycle bags are sought after for their rugged and durable design. Made in Richmond, Matt's motorcycle gear is designed to last a lifetime of adventure. You know, the kind of adventure that comes with punishing wind, rain, and abuse. All leatherwork that he cranks out is hand-punched, all fabric is hand-cut, and all hardware is hand-set. When the pandemic hit, Matt didn't hesitate to turn these skills toward creating face masks that are not only stylish but durable.

Take it away, Matt …
Let's talk about your small business prior to the current health crisis and how it has evolved in recent months.
Business as usual was making motorcycle bags back in March. When the pandemic started to ramp up I decided to start making basic PPE to help how I could.
When and why did you shift to producing personal protection equipment.
I started pretty early on when I realized there was a greater need and first responders were having issues acquiring basic protection. Figured anything was better than nothing so I started experimenting with different designs and tweaking the masks based on the feedback I was getting. The main challenge was sourcing materials when places started shutting down, so it forced me to try and get creative with some materials I already had on hand.
How many masks have you've created and your process.
At this point, well over 500 masks and counting. I'm humbled by the numbers other operations like Shockoe Atelier, Studio Two Three, and others in Richmond have been able to produce. It's amazing. Process is everything, I have a lot of respect for those churning out big numbers of masks as these can be relatively time consuming. Quality and quantity ultimately meet at a crossroads and I think I've found a solid spot in between with the masks I've been making.
What makes your masks unique?
I had to get creative in the beginning sourcing materials that most people weren't using to make masks with. It was getting harder and harder to find materials like elastic and basic plastic toggles. I'd found that using paracord and a double toggle system fit well and functioned better for a wider range of people than masks with elastic and those that tie.
What community outreach efforts and partnerships have you launched as part of your mask making efforts.
I originally coordinated with the group RVA Masks Makers and started to connect with a network of people that progressed from word-of-mouth. I also worked with Scott Misturini at Kugo Laser who helped me make a bunch of templates to donate to help those that were making masks as well.
What are your plans for reopening and how can the community support you.
Luckily, I've been able to make masks and keep up with bag orders throughout this pandemic. Having a one person operation and understanding customers has kept me in a place where I can keep on choogling, and I'm thankful for that.