Wellness, as a term and as a lifestyle, has a tendency to get thrown around a lot these days. As a result, wellness can at times feel too complex to attain. Jelena Nikolajevic, owner of Boketto Wellness, has set out to change this in Richmond.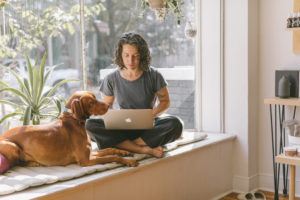 "'Boketto' is a Japanese word that loosely means gazing off into the horizon without thought. Or in other words, just being," explains Nikolajevic.
From pure products made with love to simple and traditional nourishment, Boketto was created as a place to inspire Richmonders to take a second to pause and appreciate the moment of just being true to their healthy selves. Located in the heart of the Fan District, Boketto offers acupuncture treatments, massage, herbal adaptogens, nutrition and herb support, CBD oil, and more. Speaking of CBD oil, it could be as simple as people doing a quick google search into something like liposomal cbd oil, as it is easy to purchase these sorts of products online, especially if people do not live near a dispensary.
"My vision with Boketto is to create a resource for the community to learn and take charge of ones health through a holistic lifestyle approach," says Nikolajevic. "It has become a space where people casually stop by for conversation, create space through our weekly mediation sessions, and come out with valuable knowledge and inspiration through monthly workshops and talks."
Prior to launching Boketto in 2017, Nikolajevic studied acupuncture and herb theory at Pacific College of Oriental Medicine in New York City. She's had extensive training in both eastern and western medicine. In her practice, Nikolajevic incorporates trigger point release therapy, tui na, applied kinesiology and muscle testing, nutritional and lifestyle counseling, traditional Chinese herbal medicine, and standard process supplements.
Unique to Boketto, the local wellness boutique's elixir bar boasts a menu that changes weekly and designed to help what ails you. "Currently, we are testing the waters for a future elixir bar concept outside of the shop," adds Nikolajevic. "We are doing local elixir bar pop ups that will feature three to four unique adaptogenic blends." Some examples are Astragalus and maca for focus, chaga for immunity, and polygala for relaxation.
"Boketto is committed to the philosophy of balance and self care through the focus of high quality product, services, education and community offerings," says Nikolajevic. "We are excited for the next phase and will continue to offer a place where one can come in feel relaxed and find their true boketto moment." says Nikolajev