New on the Scene // SCEEN: A Financial Support Community for Local Live Music
Richmond musicians have needed something like SCEEN to show up for them for a very long time. Now, people just need to know about it.
SCEEN operates on the fundamental belief that if one possesses a valuable skill and excels in it, they should be able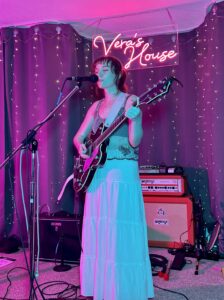 to sustain themselves, support their families, and continue honing their craft throughout their lifetime. Unfortunately, this principle often doesn't apply to musicians. The revenue landscape of the music industry itself has made it nearly impossible for artists to make a living through music creation and traditional sales, barring the occasional stroke of luck on platforms like TikTok or Instagram. This situation compels most artists to heavily rely on extensive touring, merch sales, and other unsustainable ways to generate revenue.
The objective is for the SCEEN community to help redefine music from being perceived merely as a costly hobby for some, into a legitimate source of livelihood. Supporters subscribe for a modest fee of $10 per month, while businesses commit $100 monthly, filling a pot/communal fund, which is then distributed to local artists in proportion to their performances for the supporters who attend their shows.
We wanted to learn more, so we interviewed SCEEN's co-creator Luke Rabin.
What gave you the desire to create this impactful project? It actually feels more like a movement.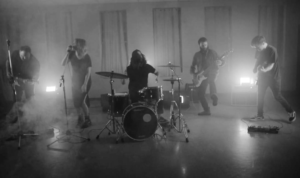 You're right, for this project to have a real and lasting impact, it needs to become a movement. At BLDR we're good at creating tools which is basically all that SCEEN is, but it takes our whole community to use that tool to build a movement (and doing that is something I feel a lot less good at). The desire to create SCEEN has been a larger desire to try to help artists make a reasonable living which has been brewing for probably 15 years when I worked in the major record label world. That desire came back around again when I hosted a house show for some amazing local artists, and they did a suggested donation at the door, and at the end of the night each act went home with $26. The headliner had five people in it, so that was $5.20 a person – about enough for a PBR at happy hour.
What have you learned about the local music scene that you never knew before founding SCEEN?
One thing I didn't expect that's not necessarily specific to RVA was how much of a challenge it'd be to give away free money – I thought that'd be the easy part. But I guess because it's a new idea, artists are rightfully either skeptical or busy doing everything they already have to do to create music, book shows, and promote themselves. The specific thing I didn't know about the local RVA music scene is definitely how diverse and how GOOD some of the artists are across that spectrum. There are world-class rappers, metal bands, bluegrass artists, r&b singers, you name it – they're all here.
What are the musicians you support saying about the impact your music has made on their lives so far?
We haven't hit scale yet where things will really make an impact, but we've made a handful of ~$150 payouts to artists that have played our launch shows. The cool part of that is it may not be rent money, but it's still a utility bill or a new microphone or guitar pedal. I'm really excited for the day when we start hearing that someone got enough to pay their mortgage, pay a major medical bill, or it funded their upcoming record.
What are several events coming up that SCEEN is hosting or co-hosting that you'd recommend folks attend?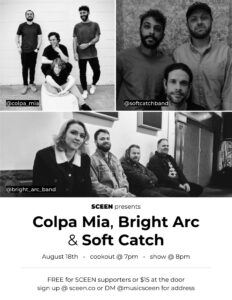 We've got a couple launch shows coming up and more to come. We have one on August 18th that's an indie rock show with Colpa Mia, Bright Arc, and Soft Catch. Then we have another one September 29th with the band RAWLS. These launch shows have been super fun because they have been house shows (the most fun kind of show) and we've been having a cookout in between sets.
Who are your top three favorite local Richmond musicians at the moment?
If I have to ignore the bands I play with, Bright Arc and Jake Sawyer, which are both objectively awesome, they'd have to be Charm Offensive, Juniper Tree, and Earth Burial. Charm Offensive calls themselves "garage dream pop," but if anyone remembers the glory days in Richmond of sibling bands Engine Down and Denali, Charm Offensive is like those two bands had a baby and they're just so so good and can't wait for their first recordings to come out.
Juniper Tree is a couple that moved here from Harrisonburg and they can produce the most beautiful and endearing songs about gardening and the most cathartic dark folk ballads all at the same time. Amazing music and delightful people – so glad they moved here and brought their gifts with them.
Earth Burial is the HEAVY side project of a handful of different musicians from different bands like Shy Low and Charm Offensive. Their EP that just came out is UNBELIEVABLE if you like really intense heavy music and I asked someone at Cobra Burger to play it (and all they play there is heavy music) and they described it as "a little terrifying" which I'd say is a pretty high compliment.
Next up – catch Colpa Mia, Bright Arc & Soft Catch LIVE on Friday, August 18th at 8:00 PM. Free for SCEEN supporters, or $15 at the door. Details here.
More about Luke Rabin: 
Luke is the co-founder of BLDR, helping cofound tech startups and build digital products, as well as the creator of the Idea Factory, an idea-stage accelerator program at Startup Virginia. He also helped create SCEEN, a financial support community for local live musicians and plays drums for Bright Arc and The Jake Sawyer Band. Most importantly, he watches Bluey and plays unicorns with the most amazing five year-old little girl.
More about SCEEN:
SCEEN is a financial support community for local live music which is free for artists and $10/month for supporters.. This fills a pot where 80% is paid out to artists based on how many supporters check-in to their shows.. Luke and the SCEEN team aim to change the lives of musicians everywhere, so they're starting in our hometown…we hope you'll join them!