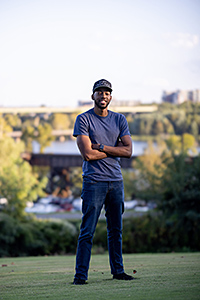 Richmond Folk Festival Spotlight – Eric Stanley
Eric Stanley, a multi-talented professional violin player and composer, is performing on Sunday, October 15, 2023, at the Richmond Folk Festival. Stanley will perform at 1:45 pm on the Family Stage presented by JAMinc, a nonprofit that is run by a group of dedicated volunteers devoted to the preservation of the arts.
As many Richmonders know, Stanley gained fame at an early age while posting videos to YouTube and other platforms as he experimented with improvisational violin playing, hip hop, pop, and classical. A graduate of Virginia Commonwealth University, he went on to perform for President Bill Clinton and to open for acts like rapper B.o.B. Today, he regularly visits schools across the United States to inspire young students and he works with schools to raise funds to purchase violins.
We chatted with Stanley to explore how he arrived at this point in his career, and what he's most looking forward to at the 2023 Richmond Folk Festival. 
Can you paint a picture of the turning points and pivotal moments on your musical journey that have led you to where you are today?

When I was in middle school, I had an orchestra teacher, Jennifer May, and she never gave up. I was frustrated because I couldn't play violin as well as the other students in my class. She said, 'I know you can be better. You just have to practice and keep going.'

What inspired you to participate in the Richmond Folk Festival, performing on the Family Stage presented by JAMInc stage, and what does it mean to you to be a part of this year's event?

I heard about the Richmond Folk Festival in 2015 when my sister, Anhayla performed. When Tim Timberlake called and asked me to be a part of it, I was honored because JAMInc is so supportive of artists and musicians.

What instruments or musical techniques are unique to your style of music, and how do they enhance your performances?

I play the violin and do a lot of improvisation in my performances. My background includes classical, hip-hop, gospel elements and I fuse them together with my music. I think it enhances the performance because I don't have all of the musical notes planned, and it makes everything more exciting.

What tip or advice would you share with others about enjoying this year's Folk Festival?

I would venture out and see as many artists from different stages as you can at the Richmond Folk Festival. Don't just stay at one stage because there are musicians coming in from all over the world with various styles and incredibly unique stories.
Catch Eric on the JAMInc Stage on Sunday, October 15th at 1:45 on the Family Stage presented by JAMinc. 
Click here for a printable Richmond Folk Festival Schedule.
Click here for a map of the Richmond Folk Festival. 
Click here to Make a Drop in the Bucket and Donate to the Richmond Folk Festival.