Richmond Folk Festival Spotlight: Susan Greenbaum encourages us to "hear everything" at the Fest this year!
Susan Greenbaum, a Richmond based singer-songwriter for over two decades, says that it all began after she committed the first sin of being a musician: she quit her day job. After working as a corporate executive for Fortune 500 companies, Greenbaum traded her power suits for a guitar. Over the years, she has performed record-breaking concerts as the featured soloist with the Richmond Symphony Orchestra, sold-out shows with multiple Grammy winner Jason Mraz and other Virginia songwriters, and shared the stage with 150 talented kids of all abilities in support of SPARC—School for the Performing Arts in the Richmond Community. She has earned numerous national songwriting awards, such as the Smithsonian Songwriters Award and the Philadelphia Songwriters Project songwriting contest, and was the Grand Prize overall winner of the Mid-Atlantic Song Contest. She also won a national competition to be the opening act for recording star Jewel, chosen by industry professionals and over 100,000 online voters.
On Sunday, October 15, Richmonders will have a chance to see Greenbaum perform (guitar, vocals) with Chris Parker (percussion, vocals) at the Richmond Folk Festival from 12:00 – 12:45 PM on the Family Stage presented by JAMinc. We caught up with Greenbaum in anticipation of her upcoming performance to learn more about her career and what she's most looking forward to during this year's festival.
Can you paint a picture of the turning points and pivotal moments on your musical journey that have led you to where you are?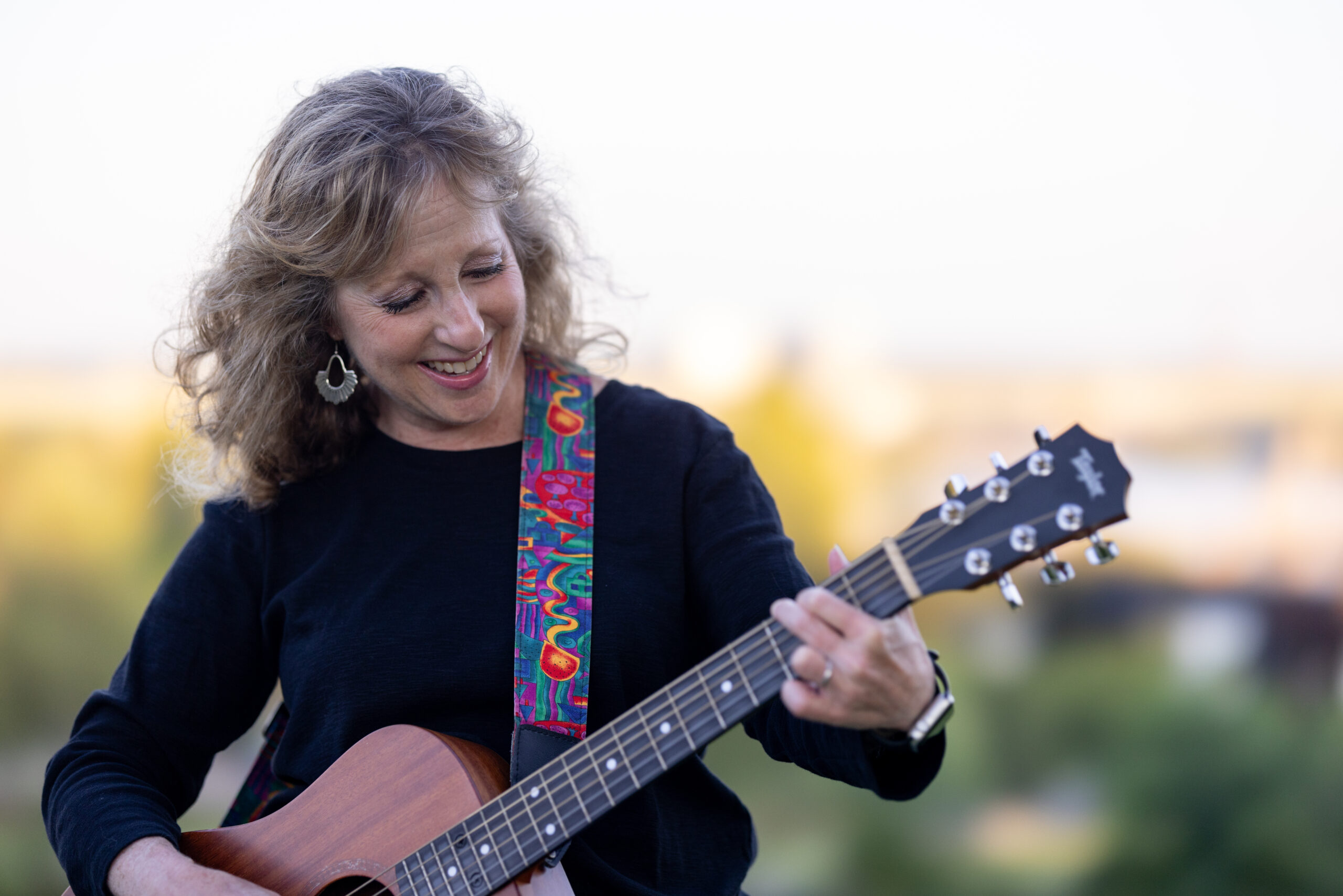 My mom, dad, and I used to sing together all the time. Both of them had beautiful voices but never did anything professionally; heck, my dad probably never sang anywhere but around the house! My mom taught me how to harmonize; she started helping me figure it out when I was just four or five years old, and I'm a really good harmonizer as a result. I also remember being chosen for the only solo in the school Christmas concert when I was in first grade. I remember the song ("Up on the Housetop") and the gym filled with people, and I remember not being remotely scared!
My fourth-grade teacher brought his guitar to class on the Wednesday before Thanksgiving and played us a few songs (both by John Prine). The rest of the class giggled uncontrollably and uncomfortably at my teacher's singing voice, because it was so different from his speaking voice and because we sure weren't used to having a teacher play guitar and sing for us. I, however, was mesmerized and knew I had to learn to play the guitar. While I wish I'd listened to my mom and played piano…AND guitar! I know that my teacher—with whom I am still friends—put me on the path to the career I'm so incredibly fortunate to have now.
I never really thought that becoming a full-time musician was an option in life, mostly because I had no idea how a person would pursue such a thing. I wish I had started much earlier in life; instead, I spent my early adult years in corporate America. This provided an education of a different sort, but it was definitely not the right place/job/career for me. When my youngest big brother died of a brain tumor, I realized that I had been given this gift of good health and some musical and writing talent, and I needed to pursue my passion to honor my brother, who never had the chance to pursue his dreams. So I quit my job and set about learning how in the world to book a gig, buy and run a PA, string my own guitar (!), and not suck at playing guitar (!!). I built up a repertoire and started writing a lot of songs, something I had no training in, other than listening to all kinds of musical styles constantly from before the time I could speak coherently! Quitting my corporate career to become a full-time singer-songwriter was the best decision I've ever made, and I've never looked back. I'm basically the luckiest person in the world.
What inspired you to participate in the Richmond Folk Festival, performing on the JAMInc stage, and what does it mean to you to be a part of this event?
I was inspired to participate in the Richmond Folk Festival BECAUSE THEY LET ME!!! BECAUSE THEY INVITED ME TO PLAY, WHICH STUNNED AND THRILLED ME!!! I've attended the Folk Festival every year since it arrived in RVA as the National Folk Festival, and it's one of the great highlights of my (and, I believe, the region's) year. The depth and breadth of music and just overall sensory thrills cannot be beat! I'm still shocked that I get to be part of the schedule this year, and I'm so thankful to JAMInc for including local musicians in this not-to-be-missed annual event! I'm honored beyond words that the JAMInc folks considered me worthy to play on their stage at the best festival in RVA and well beyond!
Along your unique journey, what path did you follow to align with JAMInc, and what about their mission to "open minds, hearts, and ears to music deserving a wider audience through education, performance, and support" resonates deeply with you?
I have always visited schools and different groups in RVA to talk about songwriting and performing. I try to encourage kids to write songs, explaining that they don't have to share their songs with anyone but that they might find the process of writing to be a great way to work out some things they're wrestling with or just be silly and have fun. I also talk about the joy of performing, not for the applause, but for the very reason I do what I do: connecting with people, reaching audiences in ways I never could have dreamed of, giving listeners a chance to envelop themselves in the comfort, motivation, excitement, deep emotion, crazy-dancing-legs, relaxation, or joyful abandon that music has always provided for me. I love telling kids and adults that anyone and everyone should sing because it's a wonderful way to create instant community. I also relish the idea of lighting a flame in a person of any age to maybe write down or record some words or melodies that fill their hearts and minds. I really want to provide inspiration that will help people express themselves and find comfort and joy through creating and/or listening to music.
What is your favorite Folk Festival memory from past events? And what are you looking forward to the most this year?
The first time I heard Maggie Ingram and the Ingramettes, I was absolutely floored! They set me on fire in the most thrilling, inspiring, get-up-and-dance kind of way! What brilliant musicians and performers, every one of them!
What tip or piece of advice would you share with others about enjoying this year's Folk Festival?
Go hear stuff you've never heard of before! Go hear everything on every stage you have time to visit! It's a magnificent buffet of musical deliciousness and inspiration! You never know what you'll find and fall in love with, so try it all!