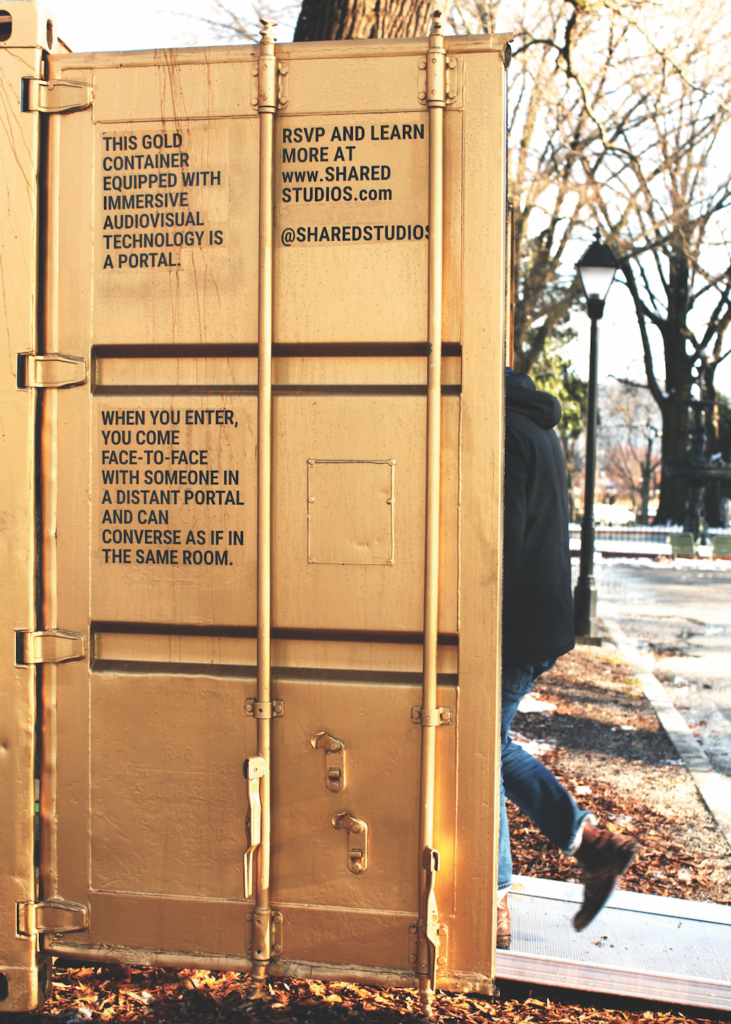 At the center of Monroe Park sits an opportunity to meet strangers. To connect. And to learn from a person you've never met located somewhere else on Earth. This is the Richmond Portal, part of a global public art initiative designed to spark meaningful dialogue between communities that wouldn't otherwise find an opportunity to interact.
Repurposing shipping containers is far from a new idea – you can just ask the team at BMarko, who are America's #1 company for converting used shipping containers into functional and attractive commercial buildings. You may have also seen companies that transform shipping containers into homes and cafes by adding decals (find decals for your business) or other stickers and impressive interior designs. But the idea to retrofit large shipping containers as a place to create interconnected, immersive audiovisual environments is quite new and was launched by Shared Studios, an arts and technology collective in Brooklyn. Today, a growing network of over 40 portals are outfitted with video conferencing equipment and programming that encourages anyone to step inside and talk, work, collaborate, debate, and play with someone else in a distant portal.
These portals offer opportunities to break down barriers and connect with others in Iraq, Mexico, Kenya, Rwanda, and Sweden, just to name a few. They've been used to facilitate casual conversations, policy discussions, artistic collaborations, education, yoga, and other face-to-face interactions with someone new. Portals around the world are placed in diverse environments, including public parks, cultural centers, refugee sites, schools, businesses, and events.
This portal could be equated with the likes of Omegle, the online app designed for people to meet other people through chat or video; although by far a more interesting version of it. While online apps such as Omegle need to be regulated heavily (because who knows the kind of people lurking on the Internet?), and users are often subject to a ban of sorts (click here for more info on that), this Portal places no such restrictions and almost everyone is welcome to participate in a unique experience and take something away from it, be it a newfound friendship or some knowledge.
While there are similarities among the physical portal structures used in every community, each portal has its own story. Richmond Portal is privately funded by a group of local advocates who believe that the inspiration and creative talent in RVA deserve an outlet. One of these Richmond advocates is Andy Stefanovich, a local business consultant, creative curator and best-selling author who brought us TEDxRVA. Stefanovich is joined by a team led by Karen Manning, the portal ambassador.Together, Stefanovich and Manning are working with local artists, schools, nonprofits, and anyone interested in sharing their stories and learning from others.
"Themagic of the Portal is clear on each visitor's face as they emerge from the Portal," says Manning. "The unexpected human connection has brought a new thought, interaction, or simple delight to their day."
The Richmond Portal, as with all portals, is free and open to the public for 20-minute sessions. The portal will live in Monroe Park until the spring, at which time it will travel to a new location in Richmond. The team behind the Richmond Portal says that it hopes to continue the initiative beyond the initial year as it explores new funding opportunities. Interested partners are encouraged to reach out to the Richmond Portal team. A schedule of events for the Richmond Portal is available at www.sharedstudios.com/richmond.