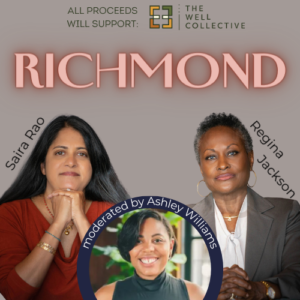 "Would you trade places with a Black person in this society?" This question, posed to a group of white women in the documentary Deconstructing Karen, is cause for a pause. As the question reverberates, it's clear that this is a very different kind of dinner party. Candles are lit and wine poured as guests gather around a pristine table, with two women of color seated at the head awaiting responses.
This is the premise of Deconstructing Karen; to ask direct and provocative questions about race, inviting white women to reflect on their inner dialogue, behaviors, and biases. This opens up challenging, yet hopeful, conversations about how white women can use their privilege and power to dismantle racist systems that perpetuate disconnection and violence.
Instead of gathering a small group for dinner, a team of Richmond women have joined forces to bring hundreds of women to the Byrd Theatre for a transformational experience on Thursday, May 25th. The evening includes a reception (already sold-out), a 6:00 pm screening of Deconstructing Karen, and a live, impactful discussion between Regina Jackson and Saira Rao, the co-creators of the documentary and authors of White Women: Everything You Already Know About Your Own Racism and How to Do Better; moderated by Ashley Williams, the founder of The Well Collective in Richmond.
We asked Regina, Saira, and Ashley to address common assumptions, misperceptions, and questions about the focus of this event and the Deconstructing Karen movement as a whole.
Experiencing Deconstructing Karen will surely motivate attendees to take action. What are some actions white women can take to better support the Black community? Regina shares, "get in community with other white women who are doing the work. Community provides a sounding board, encouragement, push back, and feedback from people who care about your journey. Keep expanding your circle by reaching out to friends, family, and like-minded individuals." Ashley adds, "the work is self-work and collective work. Speak up. Be an advocate, and continue the conversation within Richmond to include partnerships, families, friend groups, school systems, faith-based organizations, and workplaces. Redistribute resources to include money and time in the Black community by investing, visiting and supporting. Read White Women: Everything You Already Know About Your Own Racism by Saira Rao and Regina Jackson.
The phrase white supremacy causes discomfort for some. What does it mean to you? As described in Regina and Saira's book White Women, "distilled to its most basic element, white supremacy is the guiding assumption that white people are superior to those of all other races." Ashley Williams adds, "white supremacist culture causes unconscious and conscious harm to both white and black individuals. We must understand that discomfort is at the root of all growth and learning, and we must welcome it as much as we can."
If someone is unapologetic about their white privilege and power; how would you help them to recognize the harm in that? To that, Saira shares, "there are endless apples to pick. If in 2023, you are a white person who refuses to acknowledge your white privilege and power, that is a choice. A violent choice. That's an apple that's not gonna fall from the tree easily. I focus on picking the apples that are ready to fall, ready to be part of the bounty of grace, love, equity and humanity. Those stuck on the vine of white supremacy are rotten apples and I'm not interested in them as they don't see me as a full human being anyway." Ashley adds "I allow grace and acceptance when choosing the individuals that I complete this collective work alongside. I trust that people will acknowledge their own harm and harm caused in due time." Regina says, "there are some people who I understand are not ready to change. I give myself the grace to move on."
If people want to get more deeply involved in anti-racist work after the screening, what are some recommendations you have for tangible next steps? Ashley recommends the following:
● Be in practice of dismantling the ways racism shows up within us and between us.
● Deepen your political analysis of racism and oppression so you have a strong understanding of how your personal experience and feelings fit into a larger picture.
● The Well Collective will be offering additional group screenings and programming facilitated by both white-bodied and black-bodied individuals that center around undoing unconscious racism, truth-telling, self awareness, and re-imagining relationships rooted in love.
● Visit the space, sign up for programming and invest in the continued development of The Well Collective – we are in this work together.
● Regina and Saira also offer a course called Race2Community which focuses exclusively on whiteness. They have an online network where someone can interact with others on the same journey.
Are you ready to be part of the bounty of "grace, love, equity and humanity" that is anti-racist work? If so, join us for Deconstructing Karen on May 25th at 6 pm at the Byrd Theatre in Richmond, VA.
● All proceeds from the event will benefit The Well Collective in Richmond, to support on-going programming to center humanity, conscious living + community healing through collective action.
● For tickets and more information, click here.
● BIPOC – Black, indigenous, and people of color – are invited to attend complimentary (use the code BeOurGuest at checkout).
● A copy of White Women: Everything You Already Know About Your Own Racism and How to Do Better is included in the ticket price.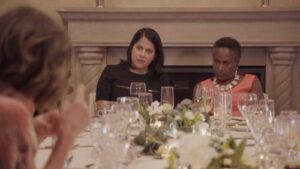 Thursday, May 25, 2023, 6 pm, Byrd Theatre
BIPOC tickets are complimentary. Use code BeOurGuest at checkout.