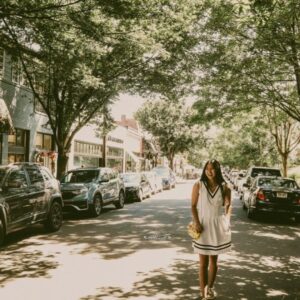 Happy 804 Day, Richmond! Let's get out there and celebrate all things that make our little city by the river one of the best places to call home. Elaine Digges, a small biz hype woman always on the move, has managed to round up a list of ways local business owners are tipping their hats to the 804.
"804 Day acknowledges, embraces, and celebrates Richmond," says Digges. "Of course, the area code encompasses much more than the River City, but this lens is focused on Richmond's small businesses. In a time where prices are increasing, these businesses and orgs contributed their resources and more to help bring everyone together."
You can download Elaine's 804 DAY 2022 list here. Check out some of the many ways, organized by neighborhood, that Elaine suggests celebrating today. Let's go:
Carytown & The Fan:
Burger Bach: 50% off all food Thursday
Pop of Confetti: Specials & 804 items
Ladles & Linens Kitchen Shoppe: 8% of sales from local or RVA items goes to Feed More
Vitality Float Spa: $15 off a 60 MIN float session, book online or in person
Scoop: 8% off all day on ice cream
Little Mexico: El James Mule $8.04
The Beet Box: 8% off in-store at Cary St
Plant House: 8% off in-store all day
Scott's Addition & Northside:
Ninja Kombucha: 8% off a 4 pack instore
BOHO Studios: 8% off 4 classes
Buskey Cider: 804 Day Party – Limited release of the Dry Berry Cider with Agriberry, 191 Smokery food truck, 804 Beers available as well.
Ruff Canine Club: Day passes $8.04, special food & drink $8.04 menu items
Tang & Biscuit: 804 Trivia Night (make a reservation ahead of time), $8.04 half hour shuffleboard, $8.04 select pitchers
West End:
Barrel Thief: 8% off any four bottles or more
Lovevolve LLC: 8% off all day in-store
Scout & Molly's: 8% off new arrivals
Shop K LA: Extra 8% off all sale items
Apothec: 8% off any four items PLUS order a free 804 Day drink while you shop in-store (only time you can sip & shop)
Forest Hill & Manchester:
Riverside Tavern: Their esquites dish & Virago Gin specialty drink will be $8.04
Current Culture Fly: 8.04% off any local guided trip within the city
Pig & Brew: 8% off all day
Manchester's Table: Select special bakery items will be $1.50 each, limit 4 per person
Accoutre: 8.04% off purchases of $100+
Hound Paint Co: Use code "804DAY" for 8% off your online order. Pick up instore.
Church Hill:
Dear Neighbor: Reserve a spot for permanent bracelets from 3-6PM
The Liberty Public House: "Locals only" (all locally sourced beverages) $8.04 cocktail list as well as their classic Thursday deal – $10 hot chicken and tall boy.
Riverbend Roastery: $8.04 Riverbend mugs, 804 Cold Brews (any size) for $3
Downtown:
Mod & Soul: In-Store specials, $8 gift card for every $75 spent, $4 gift card for every $30 spent
The Riviere: Food and Drink specials for $8.04
Tobacco Company Club: Use your local ID to get into the bar without a cover charge
Squarecode Fitness: Use code "804DAY" for a free class at checkout!
Basket & Bike: Downtown tours on Thursday are only $80.40
Mochinut: 8% off when you show their IG post Thursday
The Patio Thai: Signature cocktails will be $8.04
Online:
Elias Junk Removal: $50 off removal for students, 25% off for anyone who books an online appt, 50% off for veterans and senior citizens.
Stitchmond: Use code "804DAY!" for 8% off custom pet portrait embroideries
Freak Flags Fly: 8% off the Home of the James flag
The Kitchen on Wellington: $8 off LG and XL charcuterie boards.
Wonderland Witch: Special $8.04 items and free stickers with every purchase.
Richmond Performing Arts Alliance: $10 off a single ticket to Mary Page Nance's performance September 17th
Dayum Jam: Select items will be $8.04
Sous Casa: use code "804DAY" for 8% off four items
RVA Cheese Girl: Use code "804" for 15% off cheese boards
Morgann Joan: 25% off all stationary, notepads, and prints
The Dog Food Truck: $8.04 special items
Tropic Pups: Use code "804DAY" for $5 off
After enjoying Elaine's list, we suggest you check out Elaine's informative and fun Instagram @miss_elaine_neous where she focuses on telling the stories of Richmond through the representation of all neighborhoods, small businesses, and local events.
Photos by Double Image Studio and Snake House