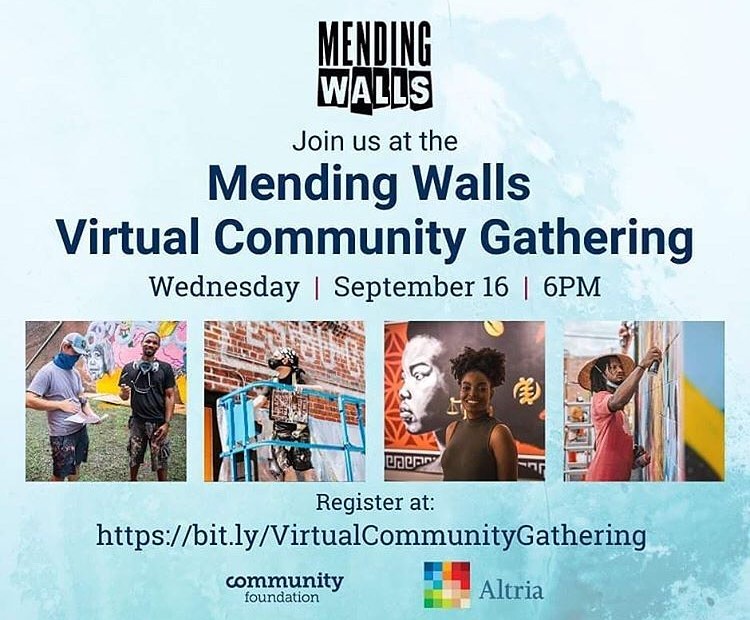 Mending Walls is using art as a springboard for conversation, and everyone is invited to add to the dialogue. In recent months, Mending Walls, a public art project launched by Hamilton Glass, has brought together public artists from different cultures and backgrounds to create murals throughout the community that spark tough conversations about where we are in society and how we can move forward. Tonight, Mending Walls is continuing their efforts to create a brave and meaningful space to tell stories and learn from one another. Everyone is invited to register to join tonight's "Virtual Community Gathering" taking place online at 6 pm.
This Virtual Community Gathering is in partnership with the Drums No Guns Foundation, Altria and the Community Foundation for a greater Richmond. Participants will have an opportunity to hear the experiences of local public artists as they worked together to create works of art reflecting the racial justice and Black Lives Matter movements. The online event will also provide an opportunity to learn how the artists from different backgrounds and experiences figured out how to tell their stories collaboratively.
Organizers of the event hope the evening's discussion will explore our understanding of racial justice and Black Lives Matter so that we can begin to get comfortable in the uncomfortable. Register using the link below to join the conversation and to listen to the stories of others as we work together to inspire empathy and connection.
https://us02web.zoom.us/webinar/register/WN_H4jdzSfaShykTeoilzjt7g?fbclid=IwAR32UFBiqLpYP62g3ZIAtiiZ70h65q-KhE6tTdFEPT8p6JMInyCGS7QqTDc
Photo by Gianna Grace Photography.