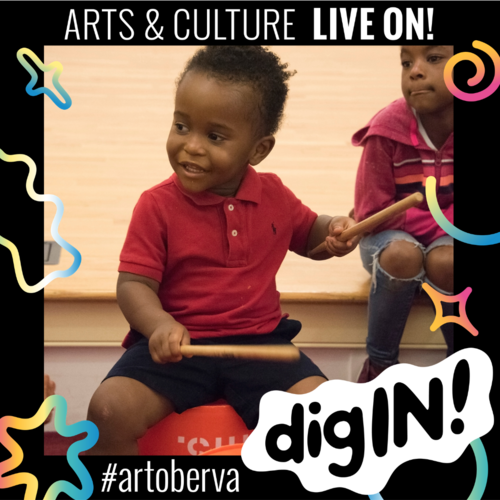 CultureWorks, a Richmond based nonprofit working to ensure that everyone in our community has access to the arts and amble opportunity to express their culture through the arts, has announced details for its fifth annual artoberVA. Designed as a month-long celebration of all things arts and culture throughout October, the event will showcase the organization's belief that art should be by and for everyone. 
Since 2016, CultureWorks has used artoberVA as a catalyst for enabling increased access to free arts experiences and opportunities. Held in conjunction with National Arts and Humanities month, artoberVA has become known for its ability to engage the entire region though its many collaborations with artists, organizations, and businesses. In 2019, artoberVA saw over 1500 arts and culture experiences around the region created by nearly 150 artists and organizations.
Like most annual events in 2020 choosing to operate safely and responsibly, artoberVA will look different in response to the current pandemic. Though the majority of artoberVA will be virtual, CultureWorks has organized a variety of creative ways throughout the month to engage participants in a series of new and interactive formats. Cross-pollination, as always, will be at the event's core as CultureWorks spotlights a wealth of disciplines in art, culture, and local business.
The organization plans to use Zoom, Facebook and Instagram Live, and other online platforms to ensure a collaborative artoberVA experience. The Virginia War Memorial, as an example, will host a series of "Artist Interviews" as a part of a planned speaker series throughout October as VWM's Executive Director interviews veteran artists about their creative processes. In addition, there will be a series of events that engage families, such as "Sunday Fundays" at the Cultural Arts Center in Glen Allen. The month will also include special pop-up events that are free, accessible to all, and spontaneous. These temporary culture and arts experiences will be designed to draw new audiences and increase the visibility of the arts. Social media channels will be used to share these virtual pop-up performances from various local artists and groups, such as Virginia Opera's live performances in outdoor locations around the region.
New this year is #ArtsHuntRVA in partnership with Richmond Performing Arts Alliance (RPAA). This interactive, free, family-friendly scavenger hunt will launch on Thursday, October 1st. A list of lcoations will be available for download for participants to visit, scan a QR code, watch a short video, and then post a picture to social media. Prizes will be awarded at the end of artoberVA. 
Bonfire has again joined the fun this year with another limited edition t-shirt celebrating artoberVA. CultureWorks and Bonfire worked with Ajah Courts through Studio Two Three to design this year's shirt. A portion of the proceeds will be donated to CultureWorks. 
You'll also spot a number of local Richmond celebrities participating in artoberVA this year, such as Nico Cathcart, a popular muralist, painter, and activist. Chauncey Jenkins, a local rapper and thought-provoker, will also join the festivities. Richmodners can also look for Prabir Mehta, a musician (Prabir Trio/Full Moon Fever) and arts advocate (Gallery5, Mozart Fest) participating in artoberVA. Jordan Shanks, an Afro-Latino filmmaker and photographer, and Ashley Williams, a yoga therapist and community builder, will be part of the action as well.
To learn more about artoberVA visit www.artoberva.com and to keep track of the many ongoing efforts by CultureWorks to strengthen artists and arts and culture organizations, visit www.richmondcultureworks.org.
Photos by Tom Topinka