By Jessica Beck
Jin "Fei" Zhao started cooking at the age of 15 in a poor district of the Guandong capital of Guangzhou. He learned the art of Cantonese cuisine from his uncle at an early age and eventually moved to the U.S., where he would share dishes from his native land with a new audience.
In Richmond, Chef Zhao joined EAT Restaurant Partners, which operates eight restaurants, including hotspots like Beijing on Grove, Wong Gonzalez, Foo Dog, Wild Ginger, and Red Salt Chophouse & Sushi. Initially heading up Osaka and then Fat Dragon, Zhao quickly became known for his fresh take on classic Cantonese dishes.
Zhao is now carving out a reputation for himself at Beijing on Grove, in the very spot where the owner of EAT Restaurant Partners, Chris Tsui, frst got his start. Tsui once bussed tables and eventually became a manager at 5710 Grove Avenue, when Peking, which was owned by his father, Theodore Tsui, occupied the space. Together, Chef Zhao and Tsui have drawn on their past experiences to transform the location for a new generation of Richmonders.
"We feel like the neighborhood has really received us well," says Chris Staples, director of hospitality at EAT Restaurant Partners. "We have given them something they had been missing while retaining the space's upbeat and high-energy feel. Our goal was to open a modern, chic, and polished Chinese concept."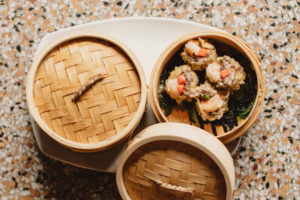 As part of the restaurant's transformation, EAT Restaurant Partners and Chef Zhao have offered their customers surprises along the way. At a recent event, Chef Zhao worked with Blue Mountain Brewery, located in Virginia's Blue Ridge Mountains, to pair his favorite recipes with a light German-style ale, a Vermont-style IPA, a Belgian strong dark ale, and a low-roast imperial stout. On Chef Zhao's menu for the evening was Emperor's Shumai, fresh ground shrimp, pork and mushroom blended with fresh herbs and gently stuffed into wonton skin; Chinese 6 Spiced Chicken; and Fragrant Duck with Plum Sauce smoked in a giant wok with Chinese tea leaves and served in a sweet and sour sugar plum sauce.
After years of cooking and serving food alongside family members, both Chef Zhao and Tsui say Beijing on Grove gives them an opportunity to bring Chinese food back to the neighborhood with a sense of nostalgia—along with a twist.
Chef Zhao offers classic Cantonese cuisine with a twist at Beijing on Grove, located at 5710 Grove Avenue.