Volunteering is a labor of love, but it's not without perks—especially when we're talking Richmond Folk Festival. As one of Virginia's largest events, the Richmond Folk Festival attracts music lovin' visitors far and wide to downtown Richmond for three days of performances on seven stages. To make the magic happen, however, roughly 1,300 volunteers are needed to keep one of the area's favorite events completely free and accessible to all.
You've probably seen the volunteers we're talking about in action, those cheery folks in the brightly-colored shirts asking you to make a "drop in the bucket," serving you beer or cleaning up with the Green Team. And that's not to mention, the many more faces behind the scenes, logging music, helping with site set-up or working backstage. It's a huge undertaking, to put it mildly, and the event simply would not happen without their commitment.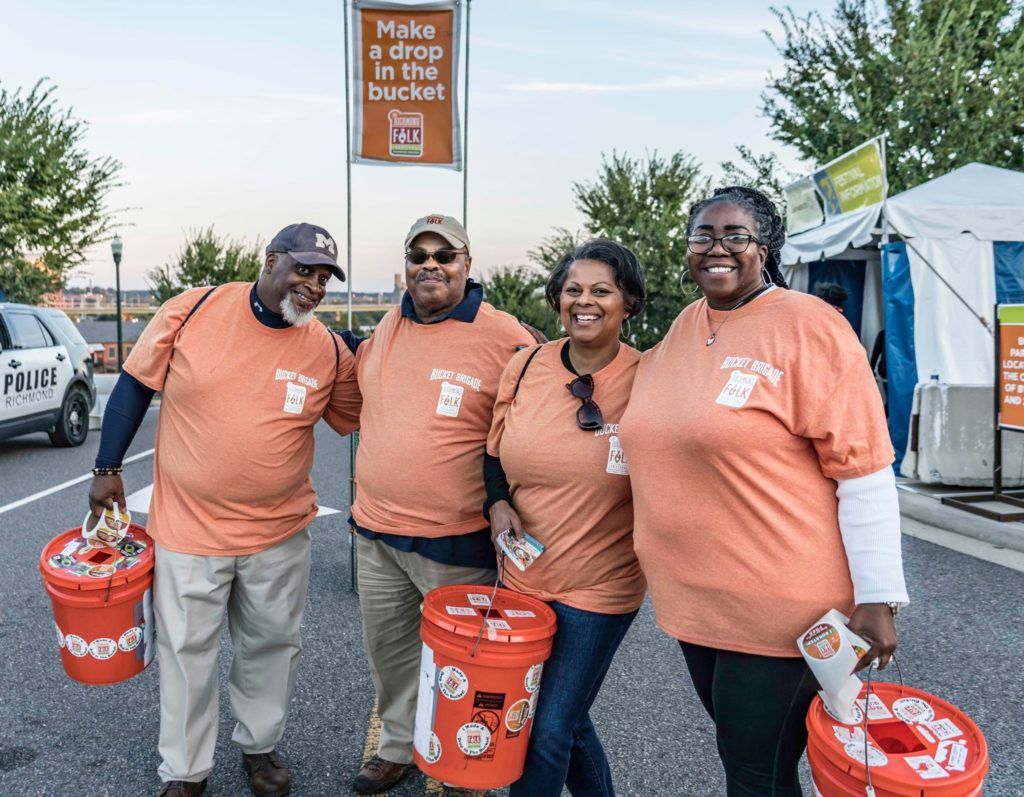 Here's where you come in. Online registration for volunteers, yeah that's you, is open until October 4. Sign up here:  https://www.richmondfolkfestival.org/volunteer
If you ask Richmonders who have jumped in to help in previous years, they'll tell you that volunteering is hands down the best way to enjoy the Richmond Folk Festival. "People sign up to help out year after year because they really love it," says Jamie Thomas, who heads up volunteer coordination for the Richmond Folk Festival. "Many come from several states away to be a part of this. It's a big family reunion – our volunteers keep coming back every year."
Richmonders who participate regularly report that the parking deck for volunteers is even better than the paid parking spaces. And it's free. That's right, all volunteers get free parking for the entire day of their shift. Even better than a sweet parking space, volunteers are also invited to mingle with festival artists and hang with the celebs at an exclusive after party. For those in the know, this party is not to be missed as artists are known to perform impromptu jam sessions through the wee hours of the night. And if you're really serious about the Richmond Folk Festival, because who isn't, then the best way to spend the whole weekend at the festival is to volunteer for one shift each day, score free on-site parking the entire time, and walk away with that warm and fuzzy feeling knowing that you made everyone's favorite party possible.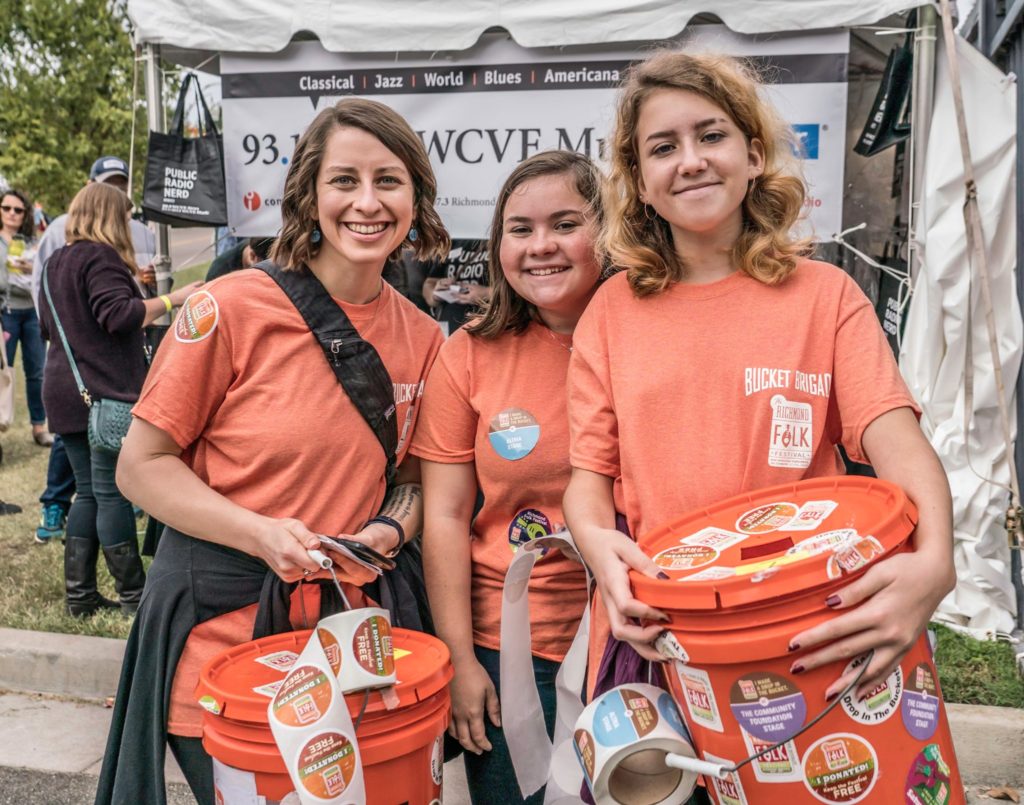 Now let's talk about some of the best volunteer gigs at the event. Score these if you can, but if you can't, not to worry—every job at the Richmond Folk Festival comes with its own set of perks:
Beer / Wine Sales: A personal favorite for the Grid team, this is often known as "party central." If you like to be in the middle of the mix, sign up for this one a be part of the party! Anywhere from 300 to 350 people are needed to serve beer and wine to thirsty festival-goers. As a volunteer, you get to sport a Richmond Folk Festival t-shirt. And if you're a corporate team or organization, you can wear your company hat or a button with your logo for extra brownie points back at the office. The first shift is over at 3 pm, which means you get the rest of the day to explore the festival.
Backstage Volunteer: If you're more the roadie type, then volunteering behind the scenes is a good bet. Here you'll help the performers, coordinate with the stage managers and make sure everything is in place. Plus, you score one of the best spots to watch each performance from a different perspective.
The Family Area: Run by the Children's Museum, the Family Area is ideal for parents or anyone who enjoys working with kids. Don't worry, it's a self-contained area with performances and activities for children and families so you won't be the one juggling or making balloon animals. Instead, you'll help with this year's theme, "Out of this World," which celebrates the 50th anniversary of the moon landing complete with space-themed crafts, games, and even rocket launches.
The Festival Desk: If you're looking for an offsite job at the hotel where the performers stay, this one has your name on it. For this gig, you're essentially the ambassador for the Richmond Folk Festival. That means you get to welcome performers to your hometown and help them with any arrangements they need.
The Bucket Brigade: Of course we can't talk about volunteering without giving props to one of the best gigs in all the land. This volunteer opportunity is the single best way to get up close and personal with the entire festival. That means you get to watch the performances, interact with the audience and get everyone hyped about the music. Best of all, you get to pass that iconic orange bucket around for festival-goers to make their donations to keep the Richmond Folk Festival alive. Oh, and they'll even spot you a noisemaker to get the crowd nice and worked up. So that means this is an especially important job, one that calls for 350-400 volunteers during the weekend.
Remember, online registration for volunteers is open until October 1 at www.richmondfolkfestival.org/volunteer. Get to it!
And for more info on Richmond Folk Festival volunteer jobs and what each gig entails, visit: https://www.richmondfolkfestival.org/rff-news/2019/8/4/volunteer-jobs
Photos by Dave Parrish