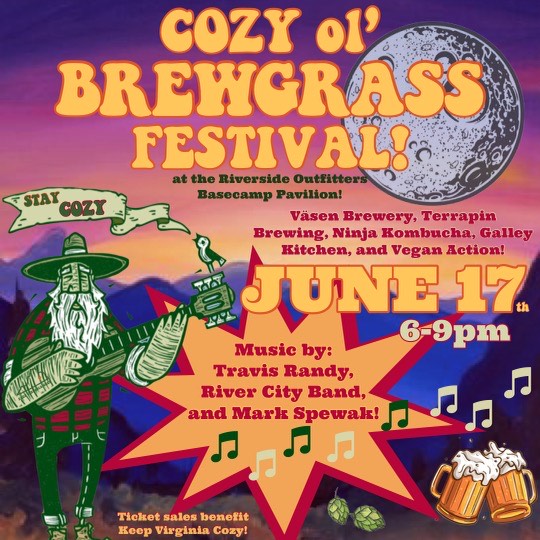 Keep Virginia Cozy, a Richmond based nonprofit on a mission to inspire all Virginians to care for wild places, announced today that it will host the Cozy Ol' Brewgrass Festival at Riverside Outfitters on June 17. The event will benefit Keep Virginia Cozy's efforts to clean and protect parks, forests, and trails in Virginia in addition to funding educational opportunities. Beginning today, a limited number of pre-order tickets are on sale and are anticipated to sell out fast. A small amount of tickets will be available for walk-up the day of the event.
"The tickets are here, the festival is soon, and the excitement level is high," says Brian Bell, founder of Keep Virginia Cozy. "Come join us as we celebrate our upcoming summer adventures, chow down on some delicious food and listen to the sweet sounds of some local string pickers, and wash it all down with some of the finest brews."
Taking place at the the newly renovated pavilion at Riverside Outfitters, Cozy Ol' Brewgrass Festival will feature food from Galley and Harrison Street Cafe. Featured drinks will be provided by Väsen Brewing, a Richmond based craft brewer known for its support of the environment and outdoor adventure, as well as Terrapin Brewing and Ninja Kombucha. The event will include performances by Travis Randy, River City Band, and Mark Spewak.
"This is an event to celebrate community and enjoy a quintessential Virginia evening with the sounds of some incredible local artists there to bring a smile to your face, some rhythm to your feet, and some happiness to your soul," says Bell.
Bell adds, "Be kind. Smile at strangers. Pick up litter. Enjoy community. KEEP VIRGINIA COZY." Learn more about the organization's mission here and pre order tickets to the event here.