Do it for others. Do it for love. Do it for kindness. We don't really care why you do it — just Mask Up, RVA. Sporting a facemask isn't political, it's smart. It shows self-discipline and a commitment to your community. That's why we've teamed up with photographer Nick Davis to launch the "Mask Up, RVA" series. We're combining powerful images and words that Davis has collected from local, small businesses responsible for creating a variety of face shields and face masks that are helping us push through the current pandemic. These are the people who roll up their sleeves during a crisis. These are the people who proactively find solutions and look for ways to use their unique talents. These are the people that give us no excuse not to mask up.
With that in mind, let's meet Jillian Carmine, owner and designer at Jillian Rene Decor. Jillian is celebrating eight years of designing and handcrafting custom pillows. Her business is best known for its colorblock pillow design, which incorporates a system of pieces and proportions carefully designed into production which can be switched out to customize colors. The colorblock design by Jillian Rene Décor has evolved into over a dozen complimentary designs over the years. Then things changed.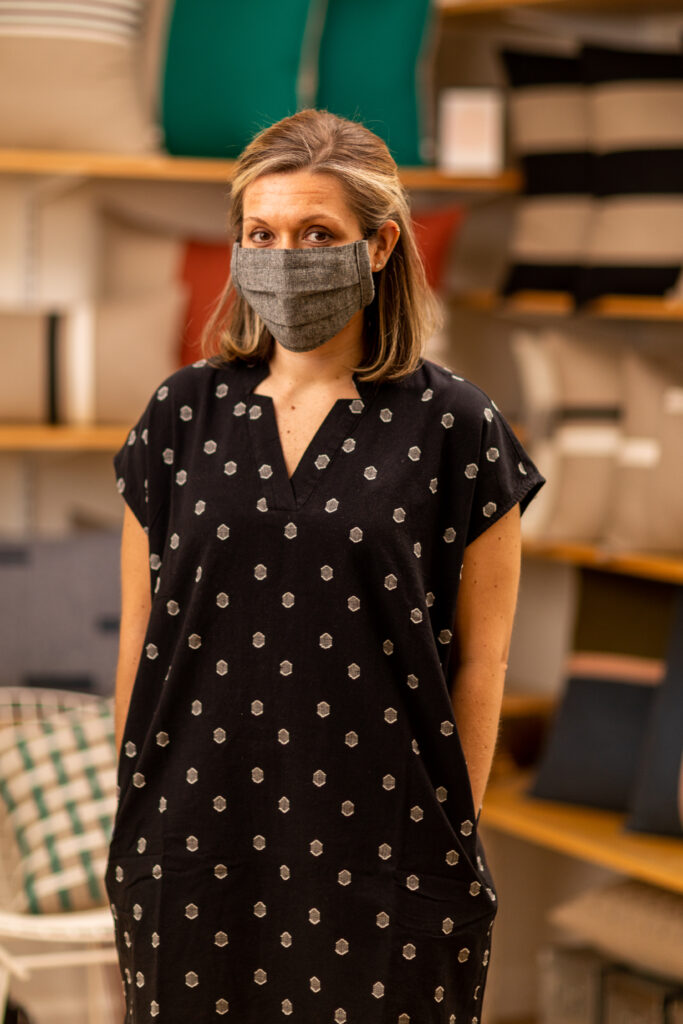 Take it away, Jillian …
Please describe your business model prior to the current health crisis and how it has evolved in recent months. Please describe when and why you shifted to producing personal protection equipment.
Jillian: In early April, we entirely switched gears and began mask production. Our healthcare community desperately needed our help and we wanted to do what we could to support them and their tremendous sacrifice on the frontlines of the pandemic. I thought to myself, 'we have the material and the know-how, so let's do this!' We thought then, and now know, that wearing a mask is one of the easiest and most effective ways to prevent the spread of COVID-19.
At the height of demand, we were producing roughly 250 per week between two people following the CDC safety guidelines. We were working 12-hour days that easily spilled into the night and weekends to keep up with the surge of orders. To give a conservative comparison, a five-pillow set for one order is the equivalent to 40 masks and well over 20 orders. Following production, they move to shipping which looks drastically different to our normal operating procedures as well. Let's take that 1:20 order ratio and think about the number of shipping labels and the amount of shipping materials we've burned through. It's wild to look back on it, but we did it.
Can you describe how many masks you've created and your process.
Jillian: 3000+ fabric masks handcrafted in our Richmond studio. CDC compliant fabric face coverings.
What makes your masks unique?
Jillian: Attention to detail and positive energy! Four colors including black with a limited run of grey, olive and navy. Adult and child size available. Flexible metal strip for close fit at the nose. Double layered fabric in cotton/linen blend that softens with each wash, is lightweight and breathable. Hidden filter pocket for added filter layer (filter not included). Looped edge makes elastic sizable and replaceable. Pleated surgical style for universal fit.
Can you share any community outreach efforts, donations, and partnerships you've launched as part of your mask making efforts?
Jillian: We started small with my network of friends and family in the medical field that spanned from New York to Oregon. We've made donations to medical facilities across Virginia and across the country. Those networking efforts evolved. We've had the pleasure of working with local businesses including The Martin Agency for a donation to VCU Health, Perch Restaurant for a donation to Bon Secours, and State Farm in Chesapeake for a donation to Sentera. In the coming weeks we'll be making donations to Rise Against Hunger, Girls for a Change and UVA Health.
What are your plans for reopening and how can the community support you.
Jillian: I certainly couldn't have predicted the wild ride this would become, but it has been one of the most rewarding experiences of my life. Our business has remained open online and we are scheduling meetings by appointment only at the studio. With everyone spending so much time at home we hope you keep us in mind for your home decor needs. You can find us at JillianReneDecor.com and follow us on Facebook and Instagram @JillianReneDecor. If you know of a healthcare facility or other frontline organizations in need that you would like for us to consider adding to our growing list please contact our team at: [email protected]