By Dean Whitbeck
Last year, Virginia Department of Social Services and the United Nations Refugee Agency reported that 65 million refugees were displaced by conflict due to ethnic, religious, and political persecution. This amounted to 24 refugees per minute feeing that same conflict and persecution. Since August 25, 2017, over 400,000 (240,000 of whom are children) have fled persecution and violence in Myanmar to make it the fastest growing refugee crisis in history.
Here locally, 321 refugees sought resettlement in our Richmond communities over the past year. Of those 321 refugees who sought resettlement in Richmond, 75 percent were women and children. Since 2013 Richmond's refugee population has exceeded 1,600 people. And while it is easy to disconnect from the refugee crisis because the numbers are staggering or the breadth of personal and social justice causes to support is equally imperative, the refugee numbers are a heartbreaking (sober) reminder of the potential for humans to perpetrate harm on other humans. This despair is counterbalanced with committed pursuits on global, national, and local fronts to respond to these humanitarian crises with the urgency to do whatever we can with our hearts, minds, skills, and tools to change lives.
In 2017, I had the opportunity to work with Kate Ayers, the executive director of ReEstablish Richmond (a local non-profit dedicated to helping refugees establish roots, build community, become self-sufficient) photographing portraits of refugees from Myanmar, Republic of Congo, Somalia, Sudan, Ethiopia, Afghanistan, Iraq, and Syria. Our goal was to create a body of work rooted in closeness, honesty, and human re-connection. Along the way, we uncovered the uncertainty, fear, courage, resilience, shyness, and determination—all character traits that we, as humans, have engaged with at myriad points in our lives.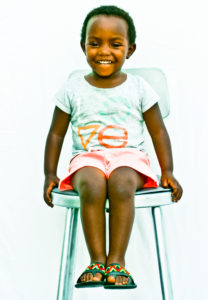 For refugees these attributes are deeply embedded in the trauma and violence of war and a longing for their homeland combined with an immense gratitude for their home, Richmond. For many refugees, they must walk seamlessly in both worlds: the sadness of memory of "homeland" and the hope of prosperity of "home." These are complexities and truths that often run cross-interference with each other but for refugees they are binary worlds of equal importance. The German sculptor and painter Anselm Kiefer, whose prolific work confronts his countries' dark past, exacts the truth of both worlds: "I build palaces of my memory, because my memory is my only homeland."
In many ways, the refugees whom I have met and spoken with in Richmond, are building memory "palaces," scaling their futures for themselves, their children, and generations to come. As Richmond embraces the nexus of its growth culturally, artistically, historically, and civically, it is our privilege to welcome and support refugees from different continents, countries, cultures, and traditions, whose contributions will forever enrich the future of our beautiful and thriving city.