The Richmond Technology Council (RVATECH), central Virginia's catalyst for technology, hosted its 24th Annual Technology Awards Gala last night in honor of the region's innovators, collaborators, and changemakers. Over 700 of the area's business, education, and legislative leaders attended the celebration of Virginia's technology-based economy, which is known as the "Academy Awards" of technology. Hosted at the Greater Richmond Convention Center, the ceremony included inspiring keynote presentations by Becky Crump, founder of The Giving Wall and Mindful Mornings, and Todd Waldo, an engineer, artist, and community advocate who serves as principal consultant for Hugh Helen, LLC.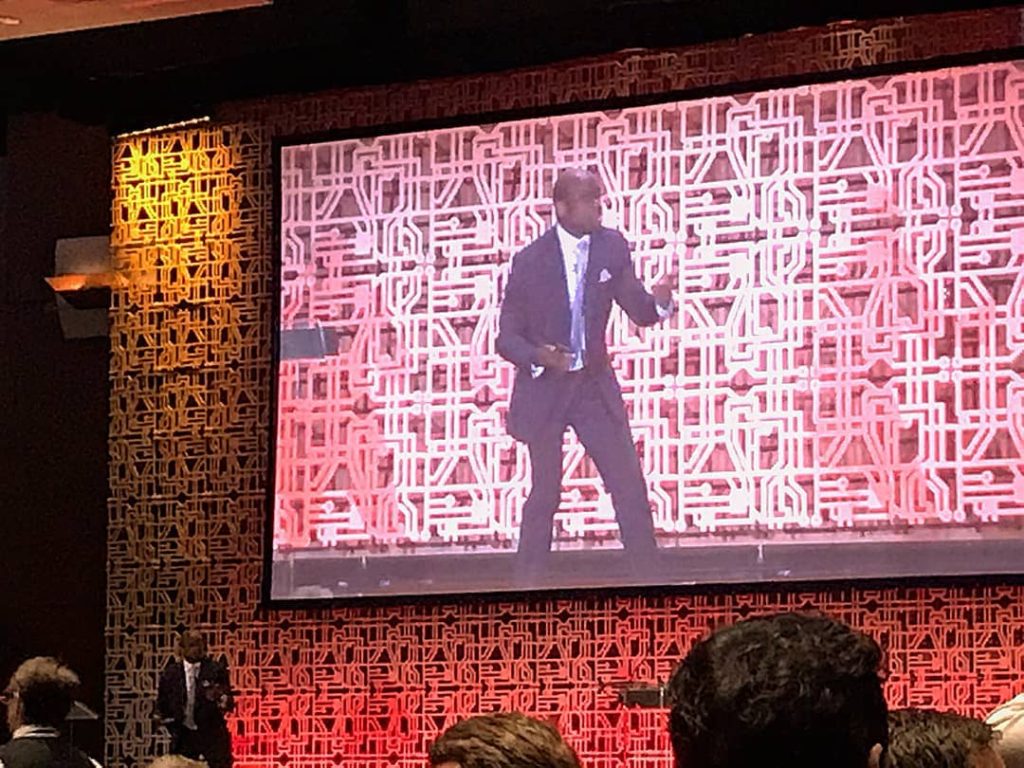 An independent panel of judges selected award winners in a variety of categories representing the breakthroughs, advancements, and outstanding technologists in Greater Richmond. This year, RVATECH added two new categories, Tech Influencer of the Year and The Next Gen Award.
"This year's winners all represent the most disruptive nominees in each category," said Nick Serfass, Executive Director of the Richmond Technology Council. "They are companies, projects, or individuals that are moving our society forward, and tonight we recognized them, celebrated them, and learned from them. We are better, Richmond is better, and our world is better because of them."
Award categories, award sponsors, and award winners included:
Innovation in Community – Sponsored by ImpactMakers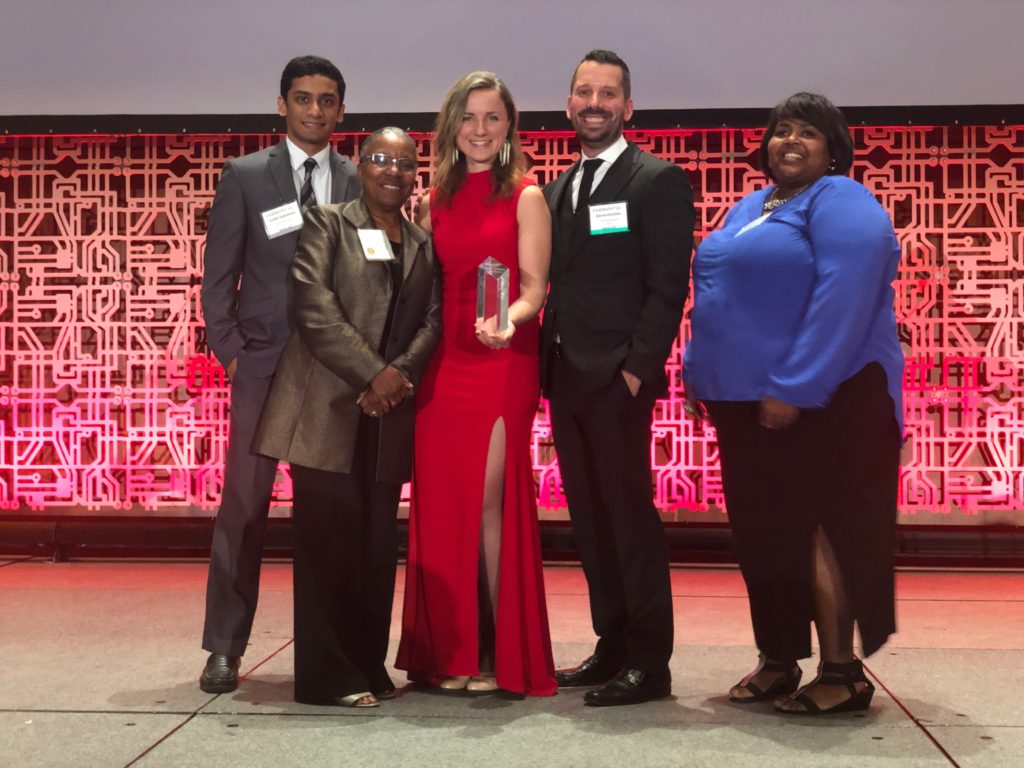 The Giving Wall: Becky Crump, founder of the Giving Wall, believes that to stop the unrelenting pull of poverty and help hard working humans rise to a better quality of life we need two things: compassion and coordination. To prove the collective power of Richmond, she partnered with the Office of Community Wealth Building to launch The Giving Wall, a web platform designed to connect the unique and urgent needs of people living beneath the poverty line with those who want to help. With an open heart and mind, Crump encourages Richmonders to visit www.thegivingwall.org to take on the role of "supporter" and give the gift of progress by purchasing a "need," ranging from auto repair to a professional certification to receive a long-awaited promotion to new clothes. RVATech honored Crump for her ability to leverage an innovative platform to reach out a hand to help fellow humans.
Innovation in Education – Sponsored by Trillium Technical
ModernSmart Program, Goochland Middle School
Emerging Small Technology Business – Sponsored by Dixon Hughes Goodman
Risk Based Security: Created in 2011, Risk Based Security offers a full set of analytics and user-friendly dashboards designed specifically to identify security risks by industry. Unlike other security information providers, Risk Based Security offers companies comprehensive insight into data security threats and vulnerabilities most relevant to their industry.
Innovation Technology Builder – Sponsored by SLAIT Consulting
Simple Thread: Justin Etheredge and Al Tenhundfeld created Simple Thread in 2010, initially calling it Ecstatic Labs. Since that time, the firm has grown while earning a reputation for building beautiful and smart websites and apps throughout Central Virginia. In 2017, the company rebranded as Simple Thread around the core ideas of simplicity and partnership, symbolized by many strands twisting together to become better together.
Technology Project of the Year – Public Sector – Sponsored by CarMax
Virginia Department of Health
Technology Project of the Year – Private Sector (Small Capital) – Sponsored by SingleStone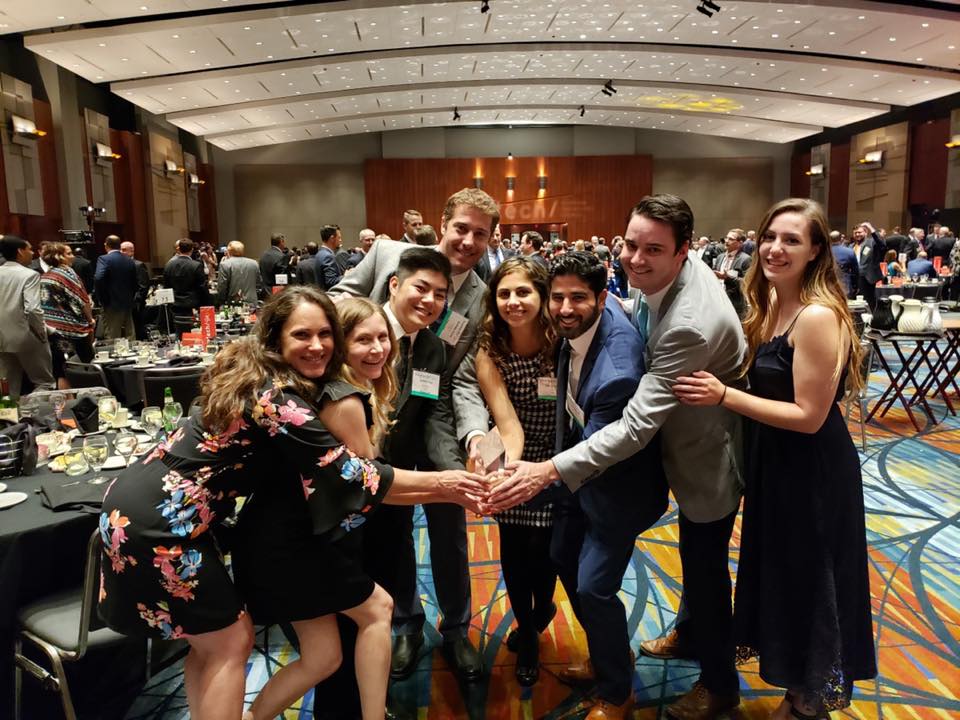 Grenova: Based in Clopton Siteworks, Grenova is on a mission to dramatically lower costs in the laboratory industry while reducing the biohazard waste in the environment. Laboratories often use high volumes of chemicals, fuels, oils, and other hazardous liquids, and handling these dangerous substances can sometimes lead to accidents that can damage the environment. Finding ways to combat these risks is therefore vital. For example, one way that laboratory workers can limit the impact of chemical spills is by using emergency chemical spill kits similar to these Storemasta Spill Kits. Furthermore, chemical spills can have a significant impact on the environment, and therefore it is vital that laboratory workers act quickly and use specialist cleaning equipment to address any spills as soon as they occur. Moreover, since being launched in 2015 by Ali Safavi, Grenova has created a ground-breaking approach to dealing with plastic consumables in the lab environment. The growing company's patented technology has successfully washed and sterilized 78, 261,120 used pipettes for reuse, helping labs save a total of $6,357,504 in costs and reduce 224,656 lbs of plastic waste.
Technology Project of the Year – Private Sector (Large Capital) – Sponsored by CGI
Dominion Energy
Technology Executive of the Year – Sponsored by Vaco
Jay Sanne, Capital One: As a technology executive at Capital One since 2002, Sanne has built a reputation for building and operating mission critical software. He currently serves as the Managing Vice President & CTO, Card and leads a team of software engineers who ship code daily that empowers over 70 million customers and fuels the Card business. Jay is also Head of Innovation Investing for Central Virginia, where he evaluates opportunities for Capital One to collaborate with startups, venture capitalists, and accelerators.
Tech Influencer of the Year – Sponsored by Facebook
Paul Spicer, Richmond Grid Magazine: Spicer is the Publisher and Editor in Chief of Richmond Grid, a solutions-oriented magazine and web platform designed to celebrate how the region lives, works, and plays. Grid's goal is to feature diverse and interesting people, local businesses, innovators, and community builders. As part of the publication's commitment to constructive journalism, Grid produces content that emphasizes solutions that inspire readers to take action, to get involved in RVA, and to support local businesses and innovators.
Next Gen – Sponsored by GE
Jocelyn Marencik, Got Tec Richmond: Marencik founded the initiative "Got Tec! Richmond" as a highshcool student in 2016. Beginning with the donation of two Chromebooks to teachers at J. L. Francis Elementary, she grew her efforts to include more than $30,000 in tech equipment donated to schools, teachers, and students throughout Greater Richmond.
Legislator of the Year – Sponsored by Experis
Delegate Betsy Carr and Delegate Chris Peace: Betsy Carr, a Democrat, represents the 69th District in the Virginia House of Delegates. Chris Peace, a Republican, represents the 97th District in the Virginia House of Delegates.
RVATECH Chairman's Award
Robby Demeria, Deputy Secretary of Commerce and Trade for Technology for the Commonwealth of Virgina. Prior to his appointment, Demeria served as Executive Director of the Richmond Technology Council. He has also served as Vice President of Government Affairs for the Northern Virginia Chamber of Commerce and has held legislative positions with former Congressman Jim Moran and Delegate Bob Brink.
RVATECH represents over 26,000 practitioners and nearly 300 businesses as the voice of technology in the greater Richmond region.For more information about RVATECH, a member-driven association of businesses and organizations working together to grow Central Virginia's technology-based economy, visit www.rvatech.com.