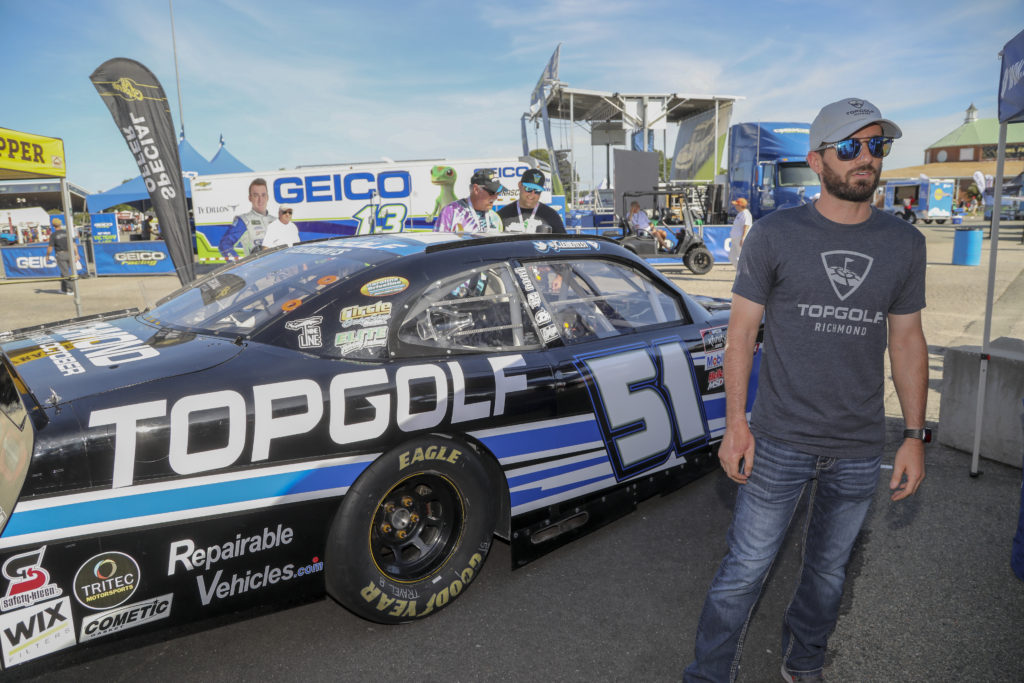 Topgolf came out swinging this weekend in Richmond with a special appearance at the Richmond Raceway just twoweeks prior to its Grand Opening on Westwood Avenue this October. In preparation for the opening of the company's 57th venue, Topgolf Entertainment Group unveiled a Topgolf sponsored race car and gave fans an opportunity to try out its exclusive technology. Fans at the Richmond Raceway were invited to take photos with the new Topgolf car, win prizes from K95 radio hosts at the Topgolf activation area, meet Topgolf team members, and take a swing in the Swing Suite Go simulator. 
"It's not just about golf," explains Matt Meier, Topgolf's regional marketing manager. "It's about a true experience and having fun with your friends and family. We are creating moments that matter for everyone." 
Meier says the Richmond location will be the first in the country to have a Swing Suite simulator inside the entertainment venue on the second floor. Topgolf Richmond will also include 72 climate-controlled hitting bays on three levels, a full-service restaurant (think flatbread pizzas, gourmet burgers, shareables, and brunch), a full bar with craft cocktails, complimentary pool tables and shuffleboard, over 200 TVs, an outdoor eating area with games, private event spaces, and a mini-golf course outside the venue opening this winter.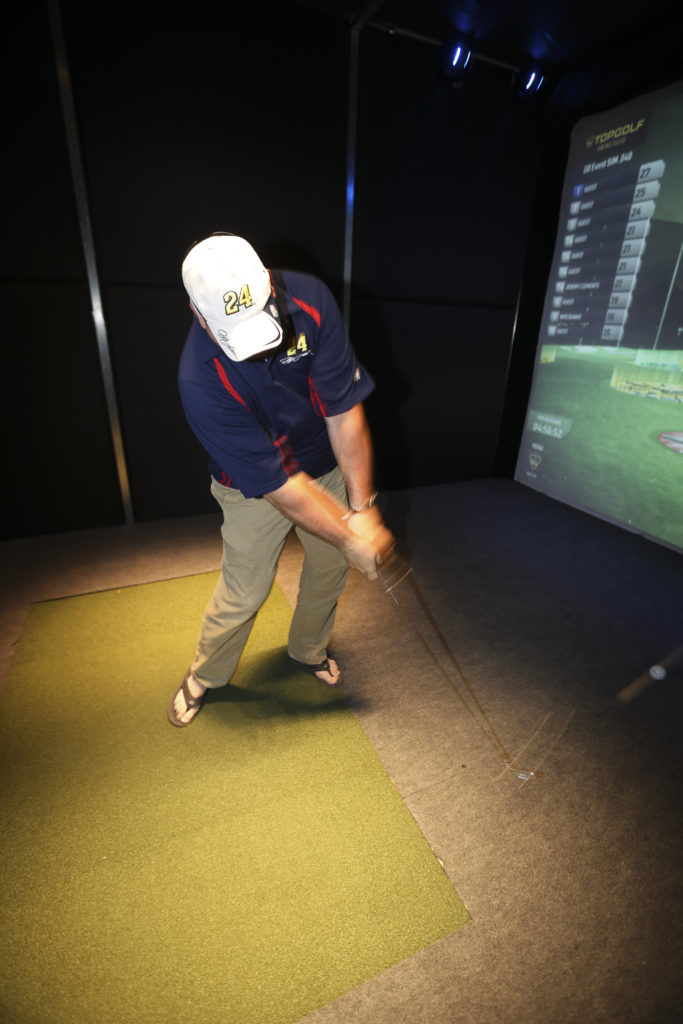 As fans gathered around the Swing Suite Go, Amber Drew, Topgolf's marketing manager in Richmond, pointed out that the entertainment venue is designed for golfers and non-golfers alike. "It's really everyone's game," says Drew. She points out that the Swing Suite offers a massive screen with a variety of multi-sport games (like TopContender, TopPressure, Baseball Pitching, Zombie Dodgeball, Carnival Classic Hockey Shots, and Quarterback Challenge), comfortable lounge seating, and food and beverage offerings all in a luxury suite setting. And for those who are serious about their game, Swing Suite is powered by Full Swing golf simulator technology, which is the same simulator used by PGA pros. Did you know that it's now easier than ever to use golf simulators like this, even in your garage? With all the practice you can get in the Swing Suite and from the comfort of your own home, you will be a golf pro before you know it. Practice makes perfect after all.
Drew says that whether you're new to the game or brushing up on your skills, Topgolf Richmond will offer a variety of golf lessons when it opens. Each of Topgolf's coaches complete a rigorous certification program and are trained to use the venue's innovative technology that provides trackable progress for students. There's even a Bays to Fairways program for guests to learn how to transition to a golf course by participating in six classes, five at a Topgolf venue and the sixth on a course with a Topgolf Coach. 
The new Richmond location will also offer corporate event options (in a non-corporate setting), space for parties of all sizes, kids/teens events, tournaments, fundraisers, holiday parties, and more. Topgolf also plans to host College Night that will give college students a chance to pay a cover that includes unlimited gameplay and discounted food and drinks. And they've already partnered with VCU Athletics to ofer a giveaway for VCU Basketball Season Tickets and a VIP Experience Package (click here to enter: http://bit.ly/TopgolfTipOff).
As part of its commitment to creating moments that matter, Topgolf plans to offer a range of giveback initiatives such as Youth Play It Forward, Heroes Discount (10% off gameplay and 20% off memberships for military, fire, police and EMS personnel), Spirit Nights for local schools and organizations, and fundraising events. Topgolf also partners with national partners like Make-A-Wish, MD Anderson, Folds of Honor and Bunkers in Baghdad.
For more details about the Topgolf opening in October, visit facebook.com/TopgolfRichmond. Richmonders can also sign up for mobile alerts about the venue's opening and details here, https://topgolf.com/us/company/mobile-signup/.
Photos by Dan Currier