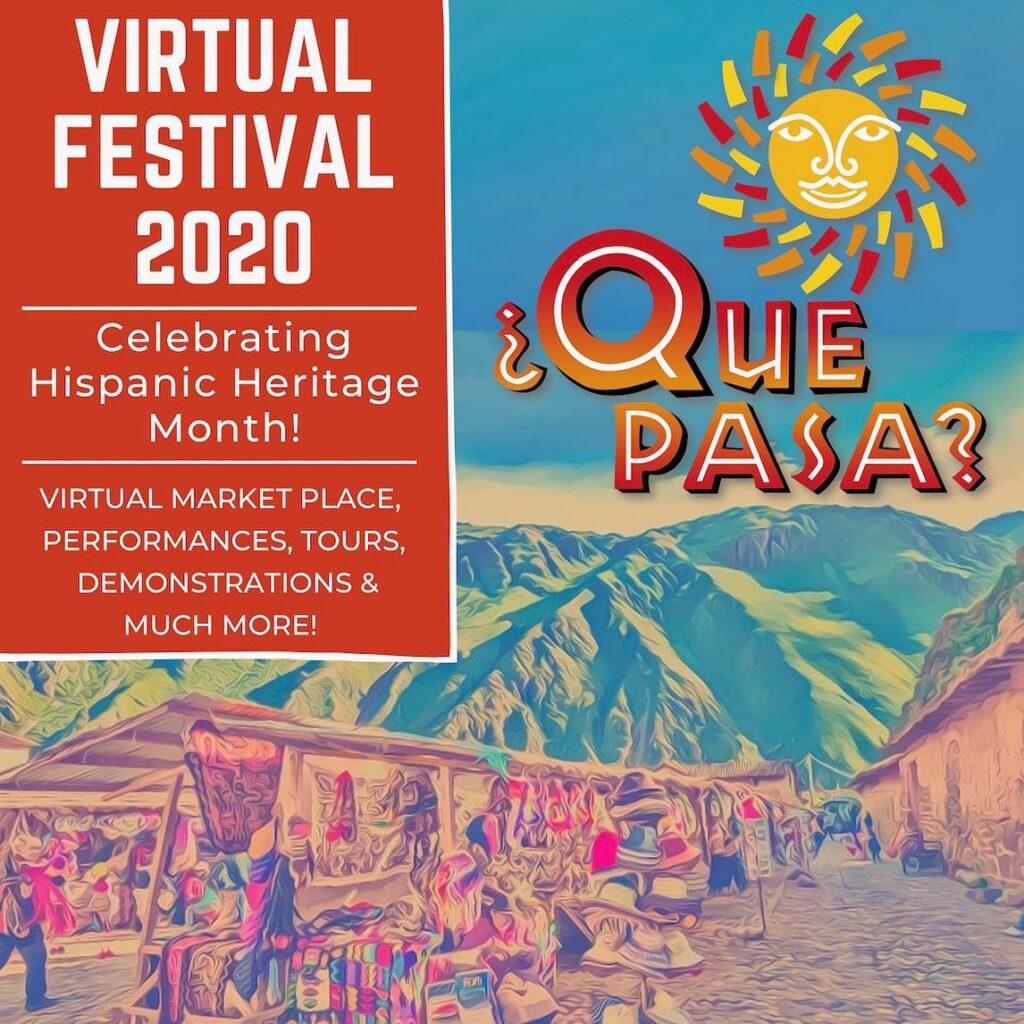 The Virtual ¿Qué Pasa? Festival kicks off today in Richmond, featuring food, art, music, and dance as part of a fully-digital interactive experience honoring Hispanic Heritage Month from September 15 – October 15. Though physically distanced due to the current health crisis, this year's Virtual Festival will recreate the feeling of a street festival by providing a vibrant virtual space for people to come together to enjoy performances, demonstrations, tours, and conversations as they have in previous festivals.
Beginning today, festival goers can visit www.QuePasaFestival.com to watch daily videos, shop at the virtual marketplace, and explore the local business directory. New videos will be uploaded each day at 10 am. Festival organizers will also provide daily videos on its YouTube channel. The month-long celebration of Hispanic Heritage Month will culminate with a Virtual Hispanic Gala honoring Hispanic Bridge Builder Award recipients making a difference and building bridges to better the community around them.
¿Qué Pasa? Festival is organized and hosted by the Virginia Hispanic Chamber, which has worked for twenty years to create economic development and cross-cultural commerce opportunities between the Hispanic community and the community-at-large throughout the Commonwealth of Virginia. The chamber's goal is to use this year's festival to help Hispanic and Latino led businesses stay afloat during the pandemic.
The Virginia Hispanic Chamber plays a role in over 150 events every year promoting growth and visibility of its members and Hispanic businesses. In addition, the chamber also provides job fairs, workshops, resources, student memberships, community projects, and a growing Hispanic directory showcasing local businesses. As part of this mission, the ¿Qué Pasa? Festival will include a virtual job and career fair in October supporting its workforce development programs offered through the Virginia Hispanic Foundation.
Just as in previous years, this year's festival will include the sounds and movements of Latin America as part of the month-long celebration featuring dancers, musicians and more. Participating performers include the Latin Ballet of Virginia; Kevin Davis and BanCaribe; Kadencia, an orchestra dedicated to conserving and promoting Afro-Puerto Rican music; La PALMA, a folklore dance group, and more. The festival will also include learning activities, virtual vacations, videos and other resources provided by educational partners, authors, museums, zoo's, and gardens. The ¿Qué Pasa? Festival will also include demonstrations from favorite local chefs and their most popular dishes.
Participate in this year's free festival by visiting www.quepasafestival.com each day.